Netanyahu: Israel has a special relationship with Bulgaria
Israel has a special relationship with Bulgaria – in the past, in the present, and in the future, Israeli Prime Minister Benjamin Netanyahu said in talks with visiting Bulgarian President Roumen Radev on March 22.
Netanyahu said that it would never be forgotten how Bulgarians defended the Jews 75 years ago, a statement by President Radev's office said.
What had happened was proof of the humanity and morality of the Bulgarian people, Netanyahu said.
The excellent bilateral relations between Bulgaria and Israel could be deepened and developed in a number of sectors, he said, noting the importance of technology development and expressing willingness to co-operate in this area.
Radev said that Bulgaria was interested in the diversification of energy sources as well as in the possibility to import and transit natural gas from the newly discovered deposits in the Eastern Mediterranean to Bulgaria's region and Europe.
Radev again called for greater pragmatism in bilateral relations and highlighted the historically established friendly ties between the two peoples as invaluable capital to be developed.
He emphasised the interest of Bulgaria in implementing Israel's experience in the fields of information technology, cyber security, science and education.
Radev noted the good cooperation between Bulgaria and Israel in the fight against terrorism and expressed gratitude for the support Bulgaria received from Israel after the attack at Bourgas Airport in July 2012.
Today's tense situation in the world requires co-operation between our security services to continue as well established good connections in the defence field, Radev said.
In Jerusalem, Radev held a working meeting with Robert Singer, chief executive officer of the World Jewish Congress, which also included dozens of politicians, public figures and representatives of the diplomatic corps in Israel.
The meeting again acknowledged by Bulgaria for the rescue of the Jewish community in Bulgaria during the Second World War. The Middle East crisis, the fight against terrorism and other issues were discussed, the statement by Radev's office said.
Radev visited Israel on the occasion of the 70th anniversary of the founding of the state, and to attend the Sixth Global Forum on Combating Anti-Semitism.
On March 22, Radev went on to Ramallah, where he held talks with Palestinian authority president Mahmoud Abbas.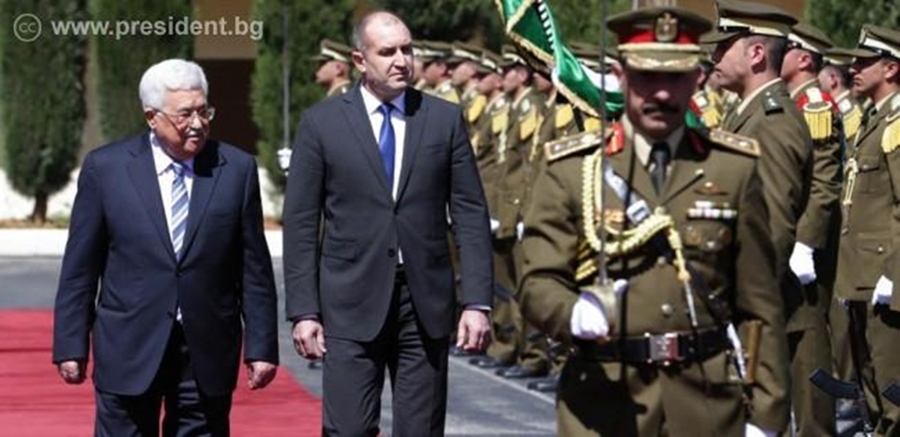 Radev said that Bulgaria adhered to the EU position, that a lasting and sustainable solution to the conflict in the Middle East could be achieved only on the basis of the principle of two independent states living in peace and understanding.
He said that he had "without playing the role of an intermediary" conveyed the wishes of his host, Israeli President Reuven Rivlin, and Prime Minister Netanyahu, to Abbas for constructive and peaceful relations.
Radev, who invited Abbas to visit Bulgaria, said that Bulgaria and Palestine had a common foe, global terrorism.
Radev paid homage at the grave of Yasser Arafat, the long-time Palestinian Liberation Organisation leader who died in November 2004.
Comments
comments