Sofia metro underground railway second line official opening on August 31
The second line of the Sofia metro underground railway is to open on August 31 2012, linking Obelya and Lomsko Chaussee stations to Sveti Naum station in Lozenets and, through the Serdica junction, to the existing line. The line also will link Sofia's central mainline railway station to the underground rail network.
The new line adds 6.4km to the Bulgarian capital city's underground railway network. There are to be stations at, counting from Obelya: Lomsko Chaussee in the Vrubnitsa residential area; Beli Dunav and Nadezhda, in the Nadezhda residential area; Khan Kubrat, Knyaginya Maria-Louisa (at Banishora); Sofia central Railway Station; Luvov Most (Lion Bridge); Sv Nedelya Square (which will link to the other line through Serdica junction); "European Union" at the National Palace of Culture; Sveti Naum; and James Bourchier.
The opening is to take place at a lavish ceremony attended by Bulgarian Prime Minister Boiko Borissov and European Commission President Jose Barroso.
Funding for the metro line from the EU has added up to about 400 million euro.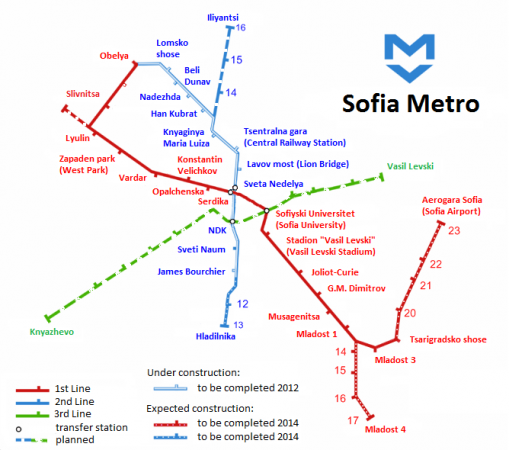 Sofia mayor Yordanka Fandukova said that one of the most interest aspects of the new junction around Serdica would be the archaeological complex at the Largo, which would have glass screens enabling the public to watch archaeologists at work.
Construction of the metro has led to the discovery of a number of significant archaeological finds related to Roman-era Sofia.
Other public transport – buses and tramways – will be re-organised temporarily, for about six months, to ease access to the new metro line. An assessment of final changes to bus and tramway services will be made after that time.
Sofiamayor Fandukova said that she expected that construction of a further five km of metro, from Tsarigradsko Chaussee underground railway station to Sofia Airport, would begin before the end of 2012.
The opening of the new metro line also brings with in increases in the cost of travel cards. A custom monthly travel card will cost 35 leva and a "no-name" one 42 leva. The cost of a single metro ticket remains one lev.
As noted, passenger transfers between the two lines will take place at Serdica station, via escalators.
(Photo: Delyan Kovachev)
Comments
comments