Bulgaria elections 2017: The week that was, March 12
With two weeks to go to Bulgaria's March 26 2017 early parliamentary elections, the past few days have seen matters becoming quite more heated – on occasion, between people who are not actually involved in the elections at all.
The Turkish ambassador found himself on the carpet at the Foreign Ministry over allegations of Ankara trying to interfere in the elections. President Roumen Radev had to do damage control over claims that he backed CETA. And Roman Catholic priest Father Paolo Cortese gave some, but not all, political parties something to talk about, though they should.
The head of the Energy and Water Regulatory Commission, Ivan Ivanov, took a vow of silence pending the elections being over. Ivanov did not want his commission being a political football. Observers gazing across the political spectrum may think that Ivanov's example is worthy of emulation.
Domestically, a story that was quite the headline-maker was a row between Bulgarian Socialist Party candidate Elena Yoncheva and GERB leader Boiko Borissov.
Yoncheva was for several years a television journalist and documentary film-maker before briefly being President Radev's head of communications, moving from this to the BSP candidate lists.
Borissov alleged that the state had "provided millions" to fund her interviews, which included assignments abroad. Yoncheva rejected this claim as untrue and impugning her professional reputation, and said that she would take court action against Borissov for defamation.
Borissov responded that should matters come to court, he would have to summon former finance ministers and intelligence chiefs to give evidence. Issues of the budget of public broadcaster Bulgarian National Television came into play. Yoncheva said that in her assignments as an outside producer for BNT, she had never been paid a stotinka by the public broadcaster, because the agreement was that her projects should be funded by sponsorships.
All this had started with Yoncheva, in a debate with GERB candidate and former cabinet minister Delyan Dobrev, attacking one of the pet projects of Borissovs' party, retrofitting of insulation on panel block apartment buildings, decrying it as – essentially – the spending of two billion leva on decorations.
Yoncheva said, as the recriminations went back and forth, that she would go ahead with court action even if Borissov apologised. There is a bit of track record of this. In 2013, Ivailo Moskovski, a former GERB minister of transport, alleged that a government aircraft had been used to fly Yoncheva to shoot a film about Somali pirates. Moskovski subsequently admitted that he had been "misled" and apologised, and the matter went no further.
In an interview with Bulgarian-language Trud, Ulyana Prumova, a former director-general of BNT, confirmed that the broadcaster had made no payments to Yoncheva during the period that Borissov had referred to.
Simeon Dyankov, finance minister in the first Borissov government (from 2009 to 2013, though he was axed in its final days) had a different recollection, that a "substantial amount" had to be paid for coverage abroad because this had not been provided for in BNT's budget. Yoncheva reiterated that she had no idea what Dyankov was talking about, and her check had confirmed that during that time, she had received no payments from BNT.
Prumova said that at the time, BNT's deficit had been the result of previously reduced state subsidies. She did not understand what Dyankov was talking about. Prumova added that she did not think it a good thing for the public broadcaster to become a topic in the election campaign (utility regulator chief Ivanov could identify with that sentiment, presumably).
Asked for what sum of damages she proposed suing Borissov, Yoncheva said that she had not thought about that; "I want the truth to come out".
Whether a row between a BSP candidate and the GERB leader could persuade anyone to vote one way or another is a matter of opinion, but the caretaker government in Sofia was rather exercised on the topic of the Turkish government trying to sway votes, reportedly through a minister urging Bulgarian passport-holders in Turkey to vote for Lyutvi Mestan's DOST, and the Turkish ambassador appearing in DOST campaign videos.
After the exchanges between the foreign ministries of Sofia and Ankara, caretaker Prime Minister Ognyan Gerdzhikov acknowledged that there were tensions between Bulgaria and Turkey which, he said, he hoped would not end up in the breaking off of diplomatic relations. But then, he was hardly the only leader of a European country talking Turkey this week; the barring of the Turkish foreign minister from the Netherlands, to prevent him campaigning in the Erdogan referendum, was a much bigger headline-maker.
The Turkish episode was grist to the mill of Bulgaria's nationalist United Patriots, who have not an iota of affection for Ankara at the best of times.
United Patriots co-leader Krassimir Karakachanov huffed that "another act of interference by Turkey should not go without a response from official Bulgaria".
Not one for half-measures, Karakachanov demanded the expulsion of the Turkish ambassador, the withdrawal of Bulgaria's support for Turkey joining the EU and the immediate closure of the Turkish border: "Only then will Bulgaria be able to protect its sovereignty and attempts at interference".
"We are ready to block the border to stop the Turkish invasion, which already quite frankly is creeping towards our ultimate institution, the Bulgarian Parliament," Karakachanov said.
Speaking of a past more recent than that of Ottoman rule, Karakachanov was – not for the first time – among those identified by the Dossier Commission as having worked for State Security, Bulgaria's communist-era secret service. His was one of 81 names, and not the only one to have been announced before by the commission, which is charged by statute with examining lists such as those of candidate MPs, and disclosing who were State Security.
Much more red-faced were parties and coalitions that trace their ultimate origins to the anti-communist movement and favour a pro-West, pro-Nato, pro-EU Bulgaria, but which turned out to have former State Security people on their candidate lists. After the Dossier Commission made its announcement, the New Republic coalition, the Yes Bulgaria coalition and the Reformist Bloc-Glas Naroden coalition all said that they rejected having State Security people among their candidates.
For parties and coalitions that have made a point of not admitting such people, their presence was a clear embarrassment. But almost every coalition and political party turned out to have such people on their lists – and by the end of the week, barring these three, had said nothing on the topic. But then, parties such as the BSP and Ataka have in the past repeatedly sought to address the issue by legislating the shutdown of the Dossier Commission.
It was Henry II who said to have exclaimed, in the year 1170: "Will no one rid me of this turbulent priest?" For Thomas à Becket, that royal exclamation did not end well.
In 2017, for Father Paolo Cortese, the week did not end well, as the Vatican recalled him from Bulgaria after he was threatened – in effect – with facing the same fate as Becket. Father Paolo was at the centre of a campaign against him from a local politician in Belene, where the Roman Catholic priest had given shelter in a church to a family of Syrian refugees.
In doing so, as he subsequently explained, he was following the precepts of Christian scripture and the teachings of his church and had acted in compliance with Bulgarian law. But the nationalist councillor who objected insisted that Cortese should have asked the permission of the residents of Belene, which Father Paolo – not without justification – rejected as a patent absurdity.
Following the threats, the Syrian family left, and following the threats to kill Father Paolo and burn his church, Rome recalled him from Bulgaria.
At this writing, just two political formations of significance have issued statements on the topic – the New Republic coalition and Hristo Ivanov's Yes Bulgaria coalition.
New Republic linked the campaign against Cortese to the priest's active role in building a memorial to the victims of the communist-era concentration camp in Belene – a role for which, in December 2016, Father Paolo was given a high state honour by then-president Rossen Plevneliev. When he was given the award, Cortese said: "Now I am a Bulgarian". Words given poignancy by subsequent events. On leaving, he told an interviewer "I am leaving my heart in Belene", adding that he felt Bulgaria to be as much his home as his native Italy.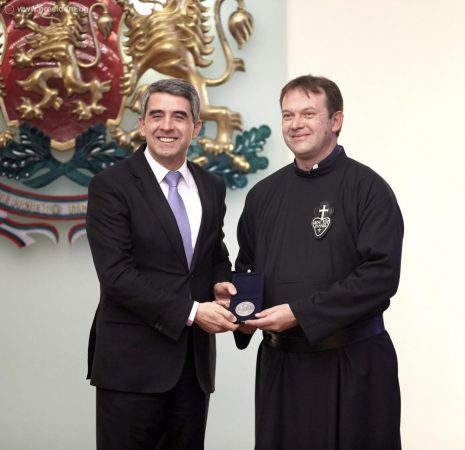 New Republic said that it was withdrawing its confidence in Belene's mayor, who in 2015 was elected on a ticket supported by a party in the current electoral coalition. Yes Bulgaria called on President Radev to take a stand and to protect constitutional rights – and in his interview, Father Paolo said similar things, urging not only the President but also the head of the Bulgarian Orthodox Church to speak up for the rights of refugees.
Yes Bulgaria did not fail to point out that on the issue of the refugees in Belene, the campaign against them, and the departure of Father Paolo, there had been nothing heard from Borissov's GERB, the BSP or the Movement for Rights and Freedoms.
So what were they saying this week?
Borissov, in the town of Shoumen, was telling an audience that GERB was the party of all Bulgarian citizens. "We do not divide people. We assist the development of settlements, so that all feel equally safe and calm".
Every municipality in the region had been the recipient of targeted assistance from the state during the time of the GERB government, whether or not the mayor was from GERB or from the MRF, Borissov said.
Never, Borissov said, "should we allow people in Bulgaria to be divided into Christians and Muslims".
He pledged that if his party won the elections, "the most stable government" would be formed after March 26.
Elsewhere in the week, BSP leader Kornelia Ninova was telling a town meeting: "The change started with your help last year with the election of Roumen Radev as President. But that was only the beginning".
Ninova derided the GERB governments as leaving "a severe financial and economic heritage, equal to 27 billion leva in debt", pouring scorn on the statements by Borissov's party that it had left the country in a stable financial condition.
Pledging to "not increase the debt" of Bulgaria, Ninova told her audience: "Today you can choose between an economy which is distributed between seven to eight companies through public procurement to those close to the government, or industry, produced in Bulgaria and Bulgarian agriculture".
Among her various promises was that, in government, she would oblige retail chains to have shelves with a minimum 50 per cent Bulgarian goods.
GERB, meanwhile, relished its chance when reports said that, in Brussels at a European Council meeting, President Radev had supported the Comprehensive Economic and Trade Agreement (CETA) between the EU and Canada.
With something approaching heavy irony, GERB praised the President – elected in 2016 on a socialist-backed ticket – for his support for CETA, the same position as that of GERB, but diametrically opposed to the BSP line. GERB delighted in underlining that Ninova had denounced supporters of CETA as "national traitors" and asked whether Ninova thought Radev was one.
All of this arose because the EC uploaded a statement that the EU leaders had backed a declaration on CETA, but in turn it became clear that the declaration had not been put to a formal vote because the European Council had been caught up in resolving the issue of Donald Tusk getting another term as European Council President.
Radev, as the weekend began, underlined that he never had and never would welcome CETA.
Moving on from the issue what the President supported or did not and when he had supported it or had not, Borissov was in Varna on the campaign trail, rattling off all sorts of promises, from completing Hemus Motorway, completing the Varna Ring Road and implementing his Balkan Gas Hub pet project.
Borissov added that the next GERB government would make a priority of building PT gymnasiums in every school.
Ninova spent part of her weekend in Bankya, Borissov's birthplace.
"It would be nice to be here with one other person, the man from Bankya. Not only as leaders of parties which compete for the government of Bulgaria, but also as leaders of this region. But alas, the man has disappeared," she said, referring to the failure to an agreement on a Borissov-Ninova television debate.
Borissov hadn't though. He was, as noted above, in Bulgaria's Black Sea city, promising all generations of Bulgarian school children the chance to limber up indoors. He had not, Ivanov-style, taken a vow of silence, and in that, Ivanov is likely to remain alone, in the coming fortnight.
/Politics
Comments
comments