Bulgaria elections 2017: The week that was, March 5
With three weeks to go to Bulgaria's early parliamentary elections on March 26, GERB leader Boiko Borissov and Bulgarian Socialist Party leader Kornelia Ninova are engaging sniper fire over Ninova's pledge to block EU sanctions against Russia should she become prime minister.
The election campaign will see exchanges between the leaders of Bulgaria's two largest party take the form only of sniping at each other over the political parapets, given that in the past week it became clear they could not agree on the terms for meeting in a televised debate.
Ninova said towards the end of the week that she would debate with Borissov in absentia, making statements from wherever she was in Bulgaria and awaiting his response.
Her first move was to say that should her party win the elections and she become prime minister, she would go to Brussels and say, "gentlemen, the next time you come to vote on sanctions against Russia, Bulgaria will impose a veto".
In making the move, Ninova ignored two facts, one that not all EU leaders are men, and second, that such votes are by qualified majority – meaning that a thing such as a Bulgarian veto does not exist.
Borissov responded that a prime minister Ninova in Brussels saying that Bulgaria would "veto" sanctions against Russia would put Bulgaria into "monstrous isolation".
According to Borissov, even Donald Trump had stopped talking about the issue of easing sanctions on Russia. The GERB leader added that he did not like the EU sanctions on Russia but had supported them because it was EU common policy and Bulgaria relied on EU money.
Borissov continued his attack at a meeting in Vratsa on March 4, telling his audience that when Ninova came to the town, they should ask her about the contracts signed with US plants and the energy distribution companies "and how to take money from the pockets of Bulgarian taxpayers".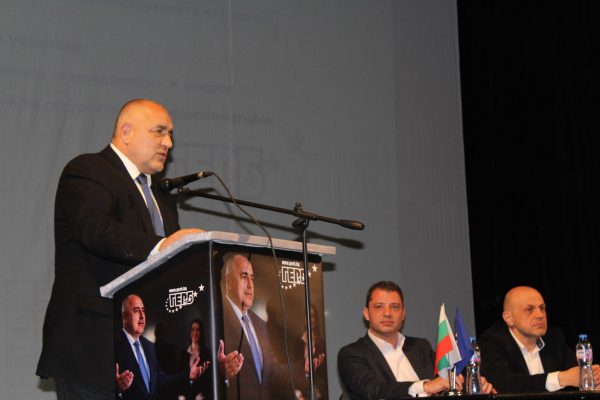 "We gave money for Corporate Commercial Bank, for the power plants, for Belene nuclear power station, six billion, 200 million leva, we paid," Borissov said.
He asked when Bulgarian pensioners had been satisfied with a BSP government on the issue of pensions. "Sergei Stanishev (head of government from 2005 to 2009, when Borissov came to power) decided to raise pensions by 10 per cent at his last meeting as prime minister. Then, for four years, we, with our work, enabled that money to be paid," Borissov said.
Meanwhile, it emerged this week that these were the first elections in which political parties had not voluntarily asked the Dossier Commission for a preliminary check whether their candidates had worked for State Security, Bulgaria's communist-era secret service.
From checks around previous elections, some candidates already are known to have worked for State Security – DOST leader and former MRF leader Lyutvi Mestan, Ramadan Atalay of the MRF, Roumen Gechev and Tasko Ermenkov of the BSP, Stanislav Stanilov of Ataka and Krassimir Karakachanov, leader of the VMRO (Ataka and VMRO are part of the United Patriots nationalist coalition in the March 2017 elections). GERB candidate Georgi Markov, formerly a constitutional judge, also was previously announced as having been a State Security collaborator.
Dossier Commission head Evtim Kostadinov said that the check mandated by law would be ready by March 10 at the latest. "According to preliminary information, the list will be small," Kostadinov said.
The New Republic party has said that it candidates list has none with a State Security background. Yes Bulgaria said at its founding that it had no space for State Security people.
Hristo Ivanov's Yes Bulgaria also was not letting the grass grow under its feet this week. It issued a call to caretaker Foreign Minister Radi Naidenov and Central Election Commission head Ivilina Alexieva-Robinson urging the opening of more polling stations abroad – notably issuing this call before the CEC actually announced its decision on polling stations abroad.
Yes Bulgaria said that at the previous elections, Bulgarians in foreign countries had waited hours to vote, especially in major European cities, because of the small number of voting stations and the inability to extend voting hours.
The United Patriots picked up the issue of the future of Bulgaria's mountains, swerving from its customary fare of anti-migrant rhetoric, but managed to inject a nationalist element into the question of nature conservation.
Or not nature conservation. VMRO leader Karakachanov, whose party is seen by many polls are likely to get the third-largest number of seats in the next National Assembly, said that his political group would insist that Parliament adopted legislative changes facilitating the construction of sports infrastructure "not only in natural parks, but wherever possible in the Bulgarian mountains, as is the practice in Europe".
Mountain regions in Europe were the richest, but in Bulgaria they were the poorest, Karakachanov said.
"In our country, in these places people make their living by picking mushrooms, herbs and planting of potatoes, as in the Middle Ages. Is that what we want for our country? Poverty and misery. And why is this happening? Because of a group of environmentalists, funded from abroad," he said.
"We are not indifferent to the standard of living of those more than 600 000 Bulgarians who live in the mountainous regions of the country. They can earn much more if mountain areas develop as national and international tourist centres," Karakachanov said.
Not everyone could pay for a 50 leva card as happens in Bansko, Borovets and Pamporovo, he said. Other regions should be given a chance to make small skiing areas with slopes and lifts, he said.
Karakachanov went on to say that as his group had proposed amendments to the Religious Denominations Act to ban funding of religious communities by foreign foundations and NGOs (a move effectively directed mainly against Muslims, though Bulgaria's ultra-nationalists have a few other faiths they do not like, such as evangelical Protestants, JWs and so on), they also wanted a ban on all foreign-funded NGOs "that work to the detriment of Bulgarian business and tourism, as prime minister Orban did in Hungary".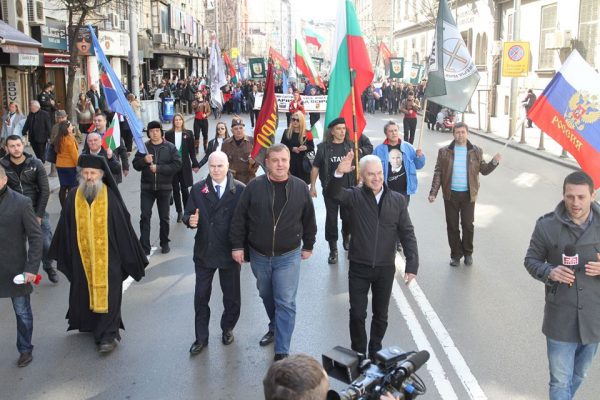 /Politics
Comments
comments