Sofia Science Festival braces for big weekend
Demand is huge for tickets to events at the 2015 Sofia Science Festival with the weekend expected to see large crowds coming to the festival's fifth-year events.
Apart from the series of events, including presentations by eminent Bulgarian and foreign scientists who have come to the Bulgarian capital especially for the festival, the outdoor section of the festival in Zaimov Park features the ever-popular Exploratorium and Zone 42, where already on the first two days school pupils have been fascinated by the live experiments and exhibitions.
Meanwhile, the opening night ceremony on May 14 saw Dimitar Zhelev adjudged the winner of the Famelab All-Stars for his presentation that tucked themes of geography and landscape ecology into the three-minute limit for competitors.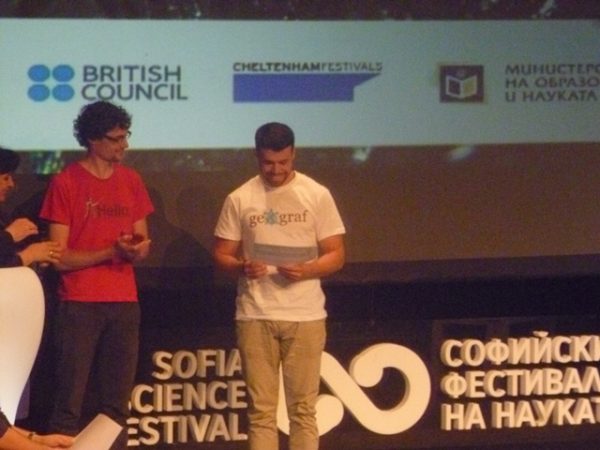 Forthcoming events this weekend have seen rushes for tickets – those by Professor Richard Dawkins, Oxford Professor of neuroscience Russell Foster on "Lights, clocks and sleep" and the president of the Society for the Protection of Ugly Animals, Simon Watt, a biologist and host of a popular science programme on the BBC. British illusionist DMC, known from the TV show "Beyond magic" on the National Geographic Channel, will demonstrate live how the characteristics of the human brain can be used to see the amazing and seemingly magical things.
Access to all events for children and most of the events for adults as well as tents with exhibitions and demonstrations, is free, requiring only to ask at the information desk for a pass. Ticketed events cost five leva, with discounts for pensioners and children, and tickets are on sale at the Theatre Sofia box office.
Further details about the Sofia Science Festival, being held in Sofia's Zaimov (also known as Oborishte) Park from May 14 to 17, can be found on its Facebook page and at its website. The Sofia Globe is a media partner of the 2015 Sofia Science Festival.
Related stories:
Richard Dawkins, on brains and brainwashing
Standing ovation for Richard Dawkins as Sofia Science Festival opens
Of paper and the problem of digital disintegration
Dawkins to give 'encore presentation' at Sofia Science Festival
Dawkins, Foster among guest lecturers at 2015 Sofia Science Festival
Science in action at the Exploratorium at the May 2015 Sofia Science Festival
Visit CERN virtually at the Sofia Science Festival 
Comments
comments