Archaeology: Bulgaria's latest 'vampire' skeleton found in Plovdiv
Bulgaria's collection of "vampire skeletons" – burials in which measures were taken to prevent the deceased from rising as undead – can now be updated to include remains found in the country's second largest city, Plovdiv.
Following the media excitement generated by the find in the seaside resort of Sozopol in June 2012, similar skeletons have since been found in Veliko Turnovo, Perperikon – already famous for a trove of legitimate discoveries – and the town of Vratsa in north-western Bulgaria earlier this summer.
Given Plovdiv's rich history, with the first signs of human habitation going back to about 4000 BCE and the modern city inhabited continuously since 340 BCE (known as Philippopolis for most of that time), it would have been more surprising if it had been unable to stake a "vampire burial" claim of its own.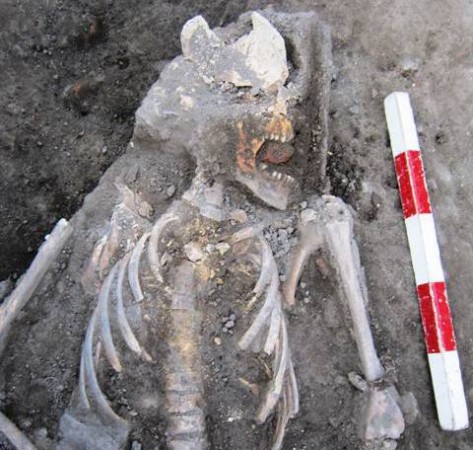 The skeleton is one of 80 found in a necropolis in the old town part of Plovdiv, tentatively dated from the 15th and 16th centuries.
The remains, facing westwards, had a brick fragment placed in the mouth of the deceased, with a clay roofing tile put over the head during the burial. The practice of placing brick fragments into the mouths of the deceased – especially those believed most likely to rise as undead, such as plague victims – was spread in 15th-16th century Italy, according to archaeologist Elena Bozhinova, quoted by local news website podtepeto.com.
The archaeologists found the remains of at least 50 burials at the site over the past week alone, as well as tombstones, although none of them appear to have any surviving inscriptions. Archaeologists found iron horseshoes in several of the coffins, but it is unclear why they were placed there, since no such burial practices had been observed before.
About 280 coins were also found between the various remains, with the largest individual find being 30 silver coins in one of the oldest burials excavated so far. Archaeologists said that below the current level they were investigating, there was an older layer dating back to the 12th-13th centuries.
The dig team found also items from a much earlier period including coins and pottery shards believed to be from the Ancient Roman period, raising hopes that the team may find even older remains at the site, Bozhinova was quoted as saying.
The dig site has become an attraction for local residents, some of whom have volunteered to help the archaeologists with their work, podtepeto.com reported.
(All photos courtesy of podtepeto.com)
Comments
comments