Bulgarian couple questioned in 'Maria' case
DNA tests were to be conducted on a Bulgarian couple who were questioned by police for more than three hours because of an alleged link to the child known as "Maria", found in a Roma settlement in Greece with a couple who were not her parents.
The Bulgarian Roma couple, who live in the town of Nikolaev in central Bulgaria, have said that the child could be the one that they left with a Greek Roma family four years ago, soon after the child was born.
However, Smile of a Child, the Greek charity that has been looking after Maria, said earlier that while initially her age was estimated to be four years, after medical tests it was now thought to be five or six.
The Bulgarian woman questioned, identified in a Bulgarian National Television report as Sasha Runeva, said that she and her husband had been working as olive-pickers in the Greek town of Larissa four years ago when she gave birth to a baby girl.
Unable to care for the child, Runeva, who has eight children, accepted an offer from another woman to do so. Runeva and her husband deny accepting money for the child.
Media reports said that there was a striking resemblance between Maria and some of the blond children in the Runevi family.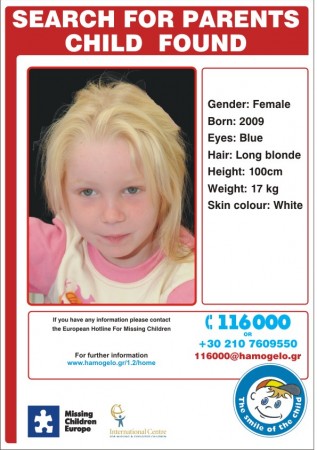 Comments
comments