'Stability' the buzzword as Bulgaria's parliamentary election campaign gets underway
After many months of torrid political dramas in Bulgaria, the theme of stability has emerged as a talking point among major parties in the first days of the official campaign period ahead of the October 5 2014 parliamentary elections.
It remains an open question, as Bulgarians once again are confronted with nightly political television adverts and the torrents of promises and bluster from politicians, whether this is merely the storm before the calm.
The October elections, called well ahead of term after the resignation of the May 2013-August 2014 government, are the fourth time since the beginning of last year that Bulgarians are being called to the ballot booths.
January 2013 saw a referendum on nuclear energy, May 2013 a National Assembly election, May 2014 a European Parliament election and now October brings early elections.
Of these four votes, technically only one had been scheduled in the long term – the European Parliament elections. The May 2013 elections were brought forward from July after the Borissov government's early resignation while the 2014 parliamentary elections are three years early.
Centre-right GERB leader Boiko Borissov, speaking at the official opening of the centre-right party's campaign on September 7, said that a country that holds elections every year cannot be stable.
At a meeting with trade union leaders on September 8, Borissov – widely expected to see his party get the largest share of votes in October – expanded on this theme, saying that it had become clear that without his party, stability was not possible. Or, to fill in the words that are missing but implied: without his party being in government.
Referring to the now-departed ruling axis of the Bulgarian Socialist Party and the Movement for Rights and Freedoms, Borissov said that if the country was in good condition, these two parties would still have been in power.
Without a stable government, there would be no EU funds, he said.
The main problem facing Bulgaria was, according to Borissov, a crisis of confidence.
"Even in Zhan Videnov's time (a reference to the BSP government of the late 1990s brought down amid popular protests against the financial and economic disaster into which it had led the country) there was not as severe a reputational crisis with our international partners," Borissov said.
"Unfortunately, confidence in our country has been lost and we shall have to put a great deal of effort into restoring it," he said.
Elsewhere in the race, and following his customary style of political rhetoric, Movement for Rights and Freedoms leader Lyutvi Mestan promised a campaign based on tolerance and said that stable government was needed to solve the problems of Bulgarian citizens.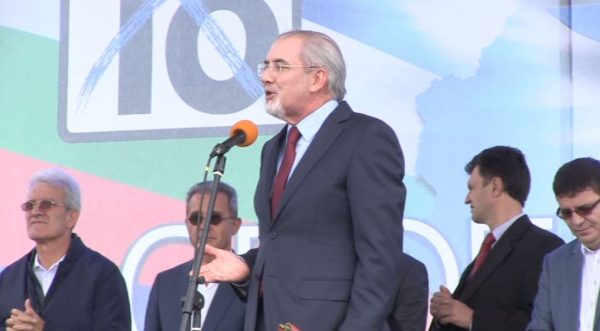 Achieving this required a national consensus and "because the MRF is a very important part of Bulgarian politics, I say that a national consensus cannot exclude the MRF".
Against a background of other parties, both major and minor, vowing that they would never serve in a coalition of which the MRF was a member, Mestan said that the MRF represented the interests of more than half a million voters who were an integral part of the Bulgarian nation (in this election, according to official figures, 6.93 million Bulgarians are eligible to vote).
Whatever the outcome of the elections on October 5, political parties that made it into Parliament were obliged to find a formula for the sound management of the country, Mestan said.
He said that he did not accept threats that if the result is not satisfactory, new elections should be held immediately (an apparent reference to Borissov repeating recently that if his party did not get at least 121 of the 240 seats in the 43rd National Assembly, GERB would decline to try to form a government).
Regardless of the outcome of the elections, an attempt should be made to form a government, Mestan said.
Bulgarian Socialist Party leader Mihail Mikov, addressing an election meeting, said that the recent natural disasters that had struck several parts of Bulgaria underlined the need for people to have solidarity and for the state to engage more seriously in preventative measures.
"Unfortunately we have had such bad occasions that remind us that the state is important and should be to the people and their needs, and not only in such moments, but also in the economy and market regulation," said Mikov, who said that the state was needed to bring "more peace and stability to the citizens".
Aside from "stability" being something of a buzzword in the early days of the campaign, it also appeared as a theme in a special address to the nation by head of state President Rossen Plevneliev marking the start of the official campaign period.
Making his by-now customary (and customarily ignored) call for parties to conduct positive election campaigns, Plevneliev called on Bulgaria's politicians to realise their responsbility to unite around the need to support long-term priorities and carry out urgent reforms "in order to guarantee stability, economic growth and the country's well-being".
Plevneliev said that Bulgaria needed stability – public, political and financial stability.
"It does not matter who the winner will be, but the state needs stability and peace," he said.
(Main photo: GERB's September 7 2014 campaign launch in Sofia: gerb.bg)
Comments
comments