Boiko Borissov and 'Buddha': Future and past tense
The drip-feed of new posts of documents purporting to prove that Bulgarian Prime Minister Boiko Borissov was some sort of undercover agent called "Agent Buddha" signals that in this election year, Borissov's past and character will be brought into play more than ever; but there is a bigger question – whether, somewhere in his past, there is material that presents a case for him to answer.
The source of the documents supposedly showing Borissov to have been "Agent Buddha" is not known, with the site that has been posting them saying that its system of accepting material anonymously does not allow them to establish the identities of informants.
Borissov, for the record, has denied any such involvement – which if true would show him to have been an informer for the anti-organised crime squad in the late 1990s (praiseworthy, surely) because of his alleged acquaintances with people involved in organised crime (erm, not as praiseworthy).
If, as Borissov suggests, the posting of the "Agent Buddha" supposed documents is intended to discredit him, and he has named the politician he believes to be behind the campaign, this would make sense, strategically. Polls consistently have placed Borissov's individual popularity as far outpacing that of his centre-right ruling party, GERB. Not unusually in latter-day Bulgarian politics, seriously discrediting the individual leader would spell doom for the party – a GERB in power without Borissov at its head is extremely difficult to imagine.
Borissov remains among the most popular people in the country, but that popularity has slipped slightly in recent years, and he has been supplanted in the number one spot by Rossen Plevneliev, who became President in January 2012 on a GERB ticket (not too much significance in that for Plevneliev, because being head of state has tended to guarantee a place near the top of the polls ex officio – Georgi Purvanov used to be there, but largely disappeared from public approval after the end of his term).
Dark past?
Borissov was propelled to popularity in Bulgaria in the years that he was chief secretary of the Interior Ministry, when an image was shaped of him as a tough, no-nonsense crime fighter shouldering his way into busts of organised crime groups, harshly and publicly criticising a dysfunctional judicial system that let criminals out as fast as Borissov's balaclavaed platoons caught them.
It is well-known that his beginnings were as a firefighter, Interior Ministry official, involved in martial arts, founder of a private security company that got the job of protecting former communist dictator Todor Zhivkov. In turn, Borissov provided close personal protection for former monarch Simeon Saxe-Coburg and when Saxe-Coburg became prime minister, Borissov became the top official at the Interior Ministry – in which post, Borissov, in media presence and popularity, eclipsed the interior minister of the time. After Saxe-Coburg's political star imploded, a political movement was formed around Borissov, first making him mayor of Sofia and then propelling him to head of government.
In the Bulgaria of yore, Borissov was a member of the Bulgarian Communist Party, a fact he acknowledges and, for that matter, shares with any number of people who subsequently have carved political careers as anti-communists. However, the Dossier Commission, the statutory body empowered to check and identify people in public life for past collaboration with communist Bulgaria's State Security secret service, has investigated Borissov and found nothing to suggest that he worked for State Security.
The significance of that is more than Borissov not being politically tainted by association with communism's spooks. It also should clear him of suspicions of links to the post-communist illicit networks founded on a State Security old boy system.
But there have been dissenting voices. Anti-Borissov media have sought to underline as what they portray as Borissov's long past association with Alexei Petrov, the former intelligence official arrested in the "Octopus" operation under Borissov's government and put on trial on multiple organised crime allegations.
There was melodrama when Jeff Stein wrote an article for Congressional Quarterly in 2007 that alleged Borissov to be a "former associate of some of the biggest mobsters in Bulgaria" and "linked to almost 30 unsolved murders in the Black Sea republic". This latter assertion was based largely on the large number of assassinations of organised crime figures while Borissov was interior ministry chief secretary. Stein quoted what his article said was a confidential report compiled by former top US law enforcement officials for a Swiss financial house: "None of these killings have been solved. Many investigations reportedly led by Borissov have been closed without results or explanations".
Borissov denied wholesale this and a number of other allegations contained in the report by Stein, who more recently gave a lengthy interview to the website bivol.bg (no relation to Alex Bivol of The Sofia Globe) revisiting allegations against Borissov. The "Agent Buddha" documentation, posted in February 2013, came through the same website, bivol.bg.
The next major set of allegations against Borissov were aired in 2011 when Wikileaks posted a 2006 secret cable from the United States embassy in Sofia.
The cable said that "accusations in years past have linked (Borissov) to oil-siphoning scandals, illegal deals involving LUKoil and major traffic in methamphetamines. Information from SIMO tends to substantiate these allegations". Separate media reports alleged that "SIMO" meant the CIA. This has never been confirmed.
The cable went on: "Borisov is alleged to have used his former position as head of Bulgarian law enforcement to arrange cover for criminal deals, and his common-law wife, Tsvetelina Borislavova, manages a large Bulgarian bank that has been accused of laundering money for organized criminal groups, as well as for Borisov's own illegal transactions. Borisov is said to have close social and business ties to influential Mafia figures, including Mladen Mihalev (AKA "Madzho"), and is a former business partner of OC figure Roumen Nikolov (AKA "the Pasha")."
Amid media interest in the leaked cable, the US ambassador to Bulgaria at the time that they were posted, James Warlick, said that the assertions in the cable were based on "incomplete information" and endorsed Borissov's administration.
Allegations regarding Borissov were aired in a 2012 in a book by Bulgarian journalist Ivan Bakalov, entitled In the Shadow of Boyko Borisov. Bakalov, who reserved judgment on the allegations in the book, set them out because of, he said, Borissov's prominent place in the Bulgarian firmament.
The blurb for the book reads: "Some of the documents, pictures and facts in this book are published for the first time. What is behind the scandal with Misho the Beer and the wiretapped conversations? What connects Boyko Borisov, Valentin Zlatev and Georgi Parvanov? Why do media serve Borisov? In what illegal business did Boyko Borisov participate in the 90s? How did his girlfriend Tsvetelina Borislavova become owner of two banks, one after another, and what is Borisov`s role in this? With whom from the so-called "mutra" circles had he been partner and friend? The documents and materials collected in the book are surprising, despite the fact that things about shady parts of Boyko Borisov's biography have been written for years.
The author predicts that Boyko Borisov will have a long political future and people should now facts from his past and present that media spare him".
A case to answer?
As noted, Borissov is scornful of such allegations against him (even the less dire, for instance that most of Bulgaria's media is in thrall to him, he dismissed in a February 1 2013 interview with public broadcaster Bulgarian National Television) and, in the case of the "Agent Buddha" episode, said that such allegations tend to be pushed to the surface whenever an election is looming.
Borissov also points to the praise and recognition accorded to him and his administration by important and influential Western governments. Long in the habit of displaying photographs of himself with high-ranking law enforcement and intelligence officials from foreign countries, Borissov recently was received – and apparently praised – by US president Barack Obama, the second US president to have embraced him. Borissov's argument is simply that he would hardly be feted everywhere from Washington to Berlin to Brussels if he really was – as his political foe, nightclub owner and fledgling minority party leader Slavi Binev calls him – a "third-rate mutra" (organised crime thug).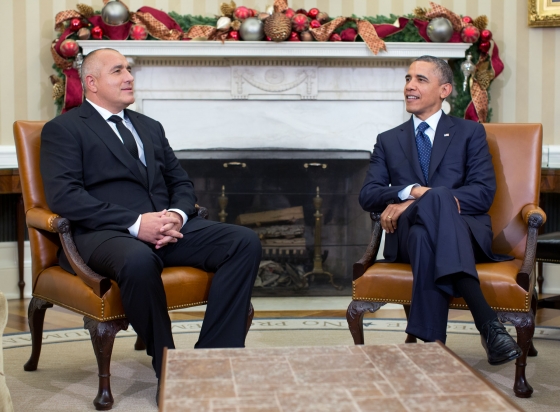 In the same Bulgarian National Television interview, Borissov also heaped derision on claims of a dark past or present, rattling off a list of the code-named high-profile operations ("Octopus", "Killers", "Impudents" etc) against organised crime groups that had been carried out since his government was in office. (These days, it is largely left to Borissov's lieutenant, Interior Minister and Deputy Prime Minister Tsvetan Tsvetanov, to say beastly things about the ineffectiveness of the judiciary.)
On February 7, Borissov said that the posts appearing on the bivol.bg site were a "deliberate campaign" and the "last gasps of the mafia, organised crime and their political patrons".
It is, of course, entirely predictable that no amount of denials by Borissov will discourage further allegations being made against him. At this writing, it was reported that bivol.bg had more material about Borissov. For his political opponents, aiming slingshots at the credentials of a man who came to prominence precisely on the basis of being seen as ruthless against organised crime is too easy a shot to resist – even if, as the Borissov camp no doubt would continue to assert – they may have faked the documents themselves.
It remains to be seen whether GERB and Borissov's spin doctors will choose to retaliate in the election campaign by, at very least, bringing into question the socialists' record, when in government, against organised crime and corruption (or the lack of one, if you prefer). Such a move would likely make a campaign likely to be brutal even more vicious. But then, in Bulgarian political discourse, the bludgeon tends to be the preferred weapon of choice, over the epee.
Comments
comments