Second World War bomb damage exposed during renovations of Bulgaria's Sofia Synagogue
Damage from a Second World War bomb has been found during renovations of Sofia Central Synagogue.
During an extensive bombing campaign by the Allies against Bulgaria – then a member of Hitler's Axis – a bomb fell on a wing of the Synagogue in 1944. This caused serious damage to Bulgarian Jewish archives that were stored in that part of the Synagogue.
The current renovations to the Synagogue, which was inaugurated in September 1909 and is the largest in South Eastern Europe, are intended to improve the heating and energy efficiency of the building.
This involves installing floor heating under the seats in the large hall, repairing the windows and doors for better insulation, and improving the airflow in the building.
Sofia Synagogue said that it was intended to display the bomb damage, found during the renovation work, and this would be done in agreement with the Bulgarian Ministry of Culture's National Institute for Real Estate Cultural Heritage.
It said that the renovation work was being done by qualified specialists, in engineering and archaeology, with many years of experience, under the supervision of the administrative director of the Synagogue, Stella Behar, a master archaeologist with experience in research and conservation of archaeological sites in Bulgaria and Israel.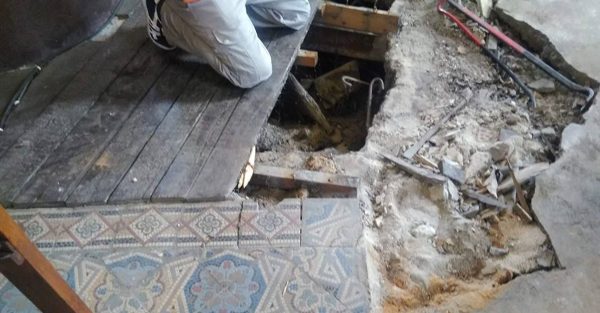 (Photos: Svilen Delchev)
Comments
comments