Bulgarian President criticises government, calls for condemnation of Nazism over 'Hitler salutes' scandals
Bulgarian President Roumen Radev has become the latest to react to the controversy of the past few days about photographs of government officials giving Hitler salutes, by saying that it was absolutely essential to condemn Nazism – and criticising the government's handling of the row.
Radev's comments on May 20 came after a week in which a deputy minister nominated by the nationalist United Patriots minority partner in government had to step down after a photograph emerged of him giving a Hitler salute, and this was followed by the emergence of a photograph of a Defence Ministry official – also linked to the United Patriots – doing the same.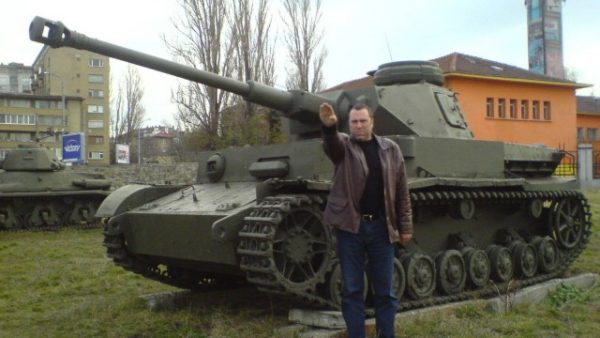 The controversy deepened over comments attributed to United Patriots co-leader and deputy prime minister Valeri Simeonov that seemed that he was making light of Buchenwald concentration camp (he denies making the comments and has said he will take court action against the daily that attributed them to him).
Prime Minister and GERB party leader Boiko Borissov, who took several hours to comment on the controversy, told the media in reference to the "joke" photo of Pavel Tenev giving a Hitler salute to waxworks figures of Nazi officers that it was "human" to take prank photos while on trips abroad.
As the week came to a close, it also emerged that Defence Minister and United Patriots co-leader Krassimir Karakachanov was reluctant about dismissing the ministry employee who had been photographed giving the Nazi salute, because the controversy had caused the official to have a heart attack, and Karakachanov did not want to fire him while he was in hospital, had not yet given an explanation for the photo, had 18 years' service and in any case, according to Karakachanov, labour law would not allow such a dismissal.
The Hitler salutes and related controversies in Bulgaria have led to strong condemnation from Bulgarian Jewish organisations and have been covered by foreign media.
Radev said: "Even in a divided post-war Europe, behind the Iron Curtain, there was an absolute consensus on either side of the condemnation of Nazism, and we must continue to be united around this consensus".
The President, who in 2016 was elected on a ticket backed by the opposition socialists, said that he did not really accept the approach of those in power.
"You see the comments of the government, the evasive comments with which they run away," Radev said.
Referring to statements by government figures about the "professionalism" of the individuals at the centre of the Hitler salute controversy – Borissov, for instance, described Tenev as having been the best of those nominated from the United Patriots quota in government – Radev said: "There is no question of professionalism, the question is whether we condemn these phenomena or not".
Radev said that he was encouraged by the condemnation of the photographs that had come from Bulgarian society.
"I think that condemnation of Nazism must be absolutely essential, and an apology in this case is the best approach," he said.
"And let us not forget that, somehow, it has been suggested that if you are an ordinary Bulgarian citizen, it is acceptable to take pictures, to make jokes, but if you come to power, from that moment this is absolutely forbidden. It is not a matter of the position you hold in society. We are all part of that society, irrespective of whether you are an ordinary citizen or a politician – those roles change very quickly, especially in our times," Radev said.
"No one doubts the professionalism of these people. The problem lies elsewhere," he said.
Radev said that on May 9, he had congratulated people for the victory over Nazism (in itself a controversial point, because May 9 – celebrated by Russia and before that the Soviet Union as the day of victory in Europe, while Western Europe and the US celebrate the previous day – is a divisive commemoration in Bulgaria).
He said that the issue was not a question of the scandals of the recent days, but was was a much more fundamental one.
(Photo: president.bg)
/Politics
Comments
comments