Bulgaria's Hitrino gas train explosion: Death toll rises to seven, day of national mourning declared
The number of dead following the gas transport train explosion in the north-eastern Bulgarian village of Hitrino has increased to seven, the Interior Ministry said on the evening of December 10.
Twenty-nine people were injured in the blast. Some have severe burn wounds, national fire chief Nikolai Nikolov said.
Evacuation of the village, to enable a transfer of remaining gas from the tanks on the train, was completed at about 5.30pm.
Hitrino residents were being accommodated with relatives or at crisis centres set up by the municipality in the town of Shoumen.
Police cordoned off the perimeter of the village.
More than 100 firefighters were dousing the unexploded tanks while rescue teams were searching for survivors in the rubble of the numerous houses destroyed or seriously damaged by the blast.
Local media quoted the pointsman at Hitrino railway station as estimating that when the train entered the station, it was travelling at about 110km/h. The man was one of those seriously injured in the explosion, that happened as the train derailed.
Prime Minister Boiko Borissov said that after so much death and destruction, a serious criminal trial could be expected.
Borissov, in his early years a firefighter, said that the process of cooling the gas tanks from the train would continue all night until the morning.
He said that the government was ready, after a full damage assessment, to provide financial assistance to Hitrino municipality or to provide targeted assistance.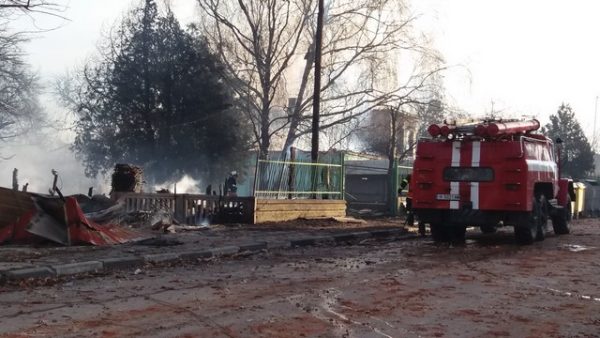 The Bulgarian Orthodox Church's governing body, the Holy Synod, called on all Christian believers to pray for the souls of the dead and to help survivors of the tragedy.
The office of the Chief Mufti, spiritual leader of Bulgaria's Muslim minority, has organised a campaign to help victims. The people of the village are predominantly Bulgarians who are adherents of Islam.
Bulgaria's government has declared Monday December 12 a day of national mourning for the victims of the explosion in Hitrino.
(Photos: Bulgarian Interior Ministry)
/Panorama
Comments
comments