Borissov: Bulgaria, Greece to put common position to EU on migration
Bulgaria and Greece are in full agreement on defence issues and will present a common position to the European Union on the outstanding issues of migration, Bulgarian Prime Minister Boiko Borissov said in Sofia after talks with his Greek counterpart Alexis Tsipras.
Borissov and Tsipras held bilateral talks as the governments of the two neighbouring countries met in the Bulgarian capital, while ministerial counterparts in various portfolios also held talks.
In a reference to the border blockades in February 2016 by protesting Greek farmers, that exacerbated relations between the two countries, Borissov said that in the autumn, there would be a further meeting with farmers and unions from Greece, to avert further border blockades.
Tsipras said that agreement had been reached on a connection between the Bulgarian port of Bourgas and the Greek port of Alexandroupolis, and on enhanced co-operation on energy projects.
Gas interconnection and the LNG terminal in the Greek city would strengthen the position of both countries on the energy map, with multiple benefits, according to a Bulgarian government media statement.
Borissov said that it was possible that a fast railway line could be built to link Bourgas and Alexandroupolis, linking two seas, the Aegean and the Black Sea.
Bulgarian Transport Minister Ivailo Moskovski said that Greece is currently working on a rail link from Thessaloniki to Alexandroupolis.
In turn, this connection could be linked up to Bulgaria's Svilengrad – Simeonovgrad – Nova Zagora – Karnobat – Bourgas line, the government statement quoted Moskovski as saying. The idea was expanded with the addition of two large logistics centres or intermodal terminals, respectively, in Alexandroupolis and Bourgas.
It was agreed that in the first week of September, meetings would begin of a working group involving Greek and Bulgarian ministries and the two countries' railways and maritime administrations. Based on the outcome of these talks, the European Commission would be approached to find out its attitude to such a project.
Borissov said that Bulgaria and Greece had absolute unanimity in all critical areas. In times of crisis, Bulgaria and Greece had always backed each other, he said.
"In this region needs stability and even though we are from different political families have absolute unanimity in all critical areas," Borissov said.
Bulgarian Deputy Prime Minister for EU funds Tomislav Donchev, meeting Greek environment and energy minister Panos Skourletis, said that possible routes for gas transit to Europe could not be successful without the participation of Bulgaria and Greece.
The meeting, attended by Bulgaria's environment and agriculture ministers and their Greek counterparts, focused on the development of joint projects in the gas sector and the actions of Bulgaria and Greece on flood prevention and water management, a Bulgarian government statement said.
Donchev underlined that Bulgaria has already stated its political determination to participate as a partner in building a new terminal for liquefied natural gas to Alexandroupolis in Greece and expressed his expectation that Greece would participate in this project as a guarantee that it is a priority for both parties.
Bulgaria examined the proposals for the construction of the Greece-Bulgaria interconnector involving an LNG terminal at Alexandroupolis. "To follow economic logic, the terminal should be built near the Greece-Bulgaria pipeline," Donchev said.
After successfully conducting the first phase of the market test project to build the Greek-Bulgarian interconnector, next week comes the launch of the second phase – submission of binding offers for reserving capacity for the pipeline, Bulgaria's energy minister said.
According to Donchev, this interconnection is of strategic importance not only for both countries but also for the Balkans.
Bulgarian Interior Minister Roumyana Buchvarova, meeting Greek migration policy minister Ioannis Mouzalas, said that in the light of the current security environment, maintaining a high level of co-operation and the timely exchange of operational information is becoming ever more important.
Buchvarova and Mouzalas discussed specific steps in even closer co-operation in the management of the common border, restricting illegal immigration and smuggling, and countering terrorism, a Bulgarian Interior Ministry statement said.
The two ministers discussed strengthening the police presence by the two countries in vulnerable points along the common border, as well as the organization of joint border patrols, as proven successful practice in other lines of work.
Buchvarova thanked her Greek counterpart for the timely responses in cases of returning people who had crossed the Greek-Bulgarian border unlawfully.She said that as a result of intensive dialogue, procedures that used to take months now take place within days, adding that joint actions give a clear signal that both countries are taking the necessary measures to prevent the opening of new migrant route.
Bulgarian Foreign Minister Daniel Mitov and his Greek counterpart Nikos Kotzias discussed the deepening of bilateral co-operation and the promotion of opportunities for intensification of bilateral relations in all fields, a Bulgarian Foreign Ministry statement said.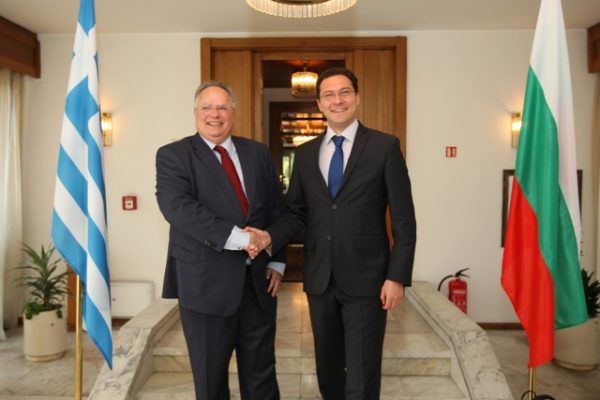 At the Mitov-Kotzias talks, the emphasis was on economic co-operation and co-operation in the fields of energy and migration policy, the Foreign Ministry said.
Comments
comments