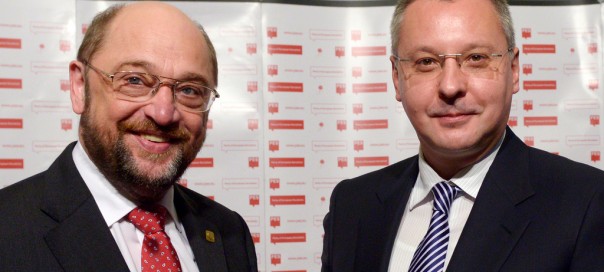 Flanked by a row of the party's stone-faced MEP candidates, Bulgarian socialist leader Sergei Stanishev refused to admit failure after his party finished a distant second to opposition party GERB during the traditional election night news conference on May 25.
Stanishev, who is also president of the Party of European Socialists (PES), said that he did not plan to resign as either PES or Bulgarian Socialist Party (BSP) leader, because "I do not want to do a favour to our opponents."
He described the campaign as difficult and said that the results of the election, as painted by exit polls, were not reason to call snap elections. The low turnout did not give the parties calling for the government's resignation any reason to do so and also a sign that there was no major protest vote against the government or its policies.
"I want to tell the many spokespeople that popped up this evening, from one political party or another, not to rush to speak in the name of the Bulgarian people. Those who think that these elections were meant to bring down the government are making a mistake," Stanishev said.
He admitted that the outcome was disappointing for the BSP, blaming several factors – but when asked whether he would accept personal responsibility, Stanishev said repeatedly that the party would "analyse the official results and draw our conclusions."
He said that he did everything he could to win the elections, "meeting tens of thousands of people", more than any other party running in this election. (He also said that GERB won without doing much campaigning, which makes one wonder by what margin the opposition party would have won if it was really trying.)
Among the factors that determined the party's poor result was the fact that BSP campaigned "for European elections" rather than "domestic elections", Stanishev said, without pointing out what the difference was between the two.
Furthermore, he said that it was difficult to motivate the party's supporters for European Parliament elections, especially given the Russophile tendency of the BSP electorate – who do not approve of the EU stance against Russia in the Ukrainian conflict, even if Bulgaria took a more mild position than "some of the hawks" in the EU.
Stanishev also said that the BSP was "backstabbed" by the political project of former president Georgi Purvanov, ABC, who sought to offer an alternative to the BSP (having lost the internal party election to Stanishev last year). ABC won about four per cent of the vote, according to exit polls.
Stanishev said that ABC cost BSP at least one MEP seat directly, but also countless other votes by demoralising left-leaning voters.
On the European Parliament as a whole, Stanishev said that it was too early to comment before the results were clear, but said that the European People's Party (of which GERB is a member) is set to lose the most MEP seats.
That was not enough, however, for Stanishev to claim victory, saying that "the change that we [PES] wanted did not happen to the extent that we targeted." The rising popularity of Euroskeptic parties should serve as a warning sign to the EU, underlining "the need for change that is felt by the people."
(PES European Commission presidential nominee Martin Schulz and Sergei Stanishev during the campaign. Photo: PES/Eric Vidal via flickr.com)
Comments
comments