Plevneliev, Nuland express hope for restoration of stability in Ukraine
Bulgarian President Rossen Plevneliev and visiting United States assistant secretary of state Victoria Nuland expressed hope for the restoration of stability in Ukraine through the building of strong institutions to meet civil society's expectations of greater efficiency and transparency in government, the President's office said on March 31 2014.
Nuland arrived in Sofia on the eve of a Nato foreign ministerial meeting in Brussels, on a trip billed as celebrating the 10th anniversary of Bulgaria's membership of Nato, while she was also to discuss with senior Bulgarian government issues such as regional security and energy diversity.
According to the statement by President Plevneliev's office, he said that closer co-operation and a sharing of resources among Nato member states were the instruments to use to build collective defence capabilities.
Plevneliev said that the current financial constraints on Bulgaria and neighbouring countries called for more active support for the principles of smart defence.
Nuland confirmed US support for the modernisation of the Bulgarian military, the statement said.
Linking the transport and energy infrastructure of South Eastern Europe would increase stability and help attract further investments to the region, it was noted at the meeting, the statement said.
The need to diversify energy sources by building interconnectors among the countries at the region was emphasised.
Plevneliev told Nuland that he hoped that visa restrictions on Bulgarians travelling to the US would be lifted as soon as possible, the statement said.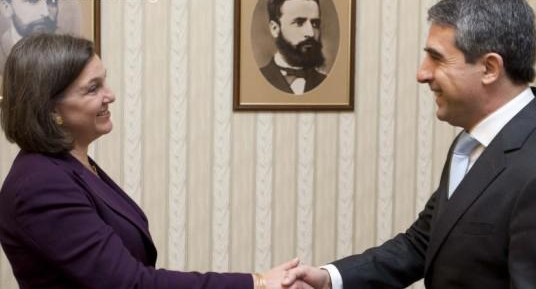 At a meeting with Nuland, Plamen Oresharski – appointed to sit in the prime minister's chair in May 2013 in the Bulgarian Socialist Party cabinet – said that he hoped for a diplomatic solution to the Ukrainian crisis.
Oresharski expressed hope that matters would not come to a third package of economic sanctions against Russia, and emphasised the negative effect that this would have on some member states of the EU, including Bulgaria.
According to a government media statement, other highlights in the meeting between Oresharski and Nuland were the topics of energy diversification and investments in security. He emphasised the importance of the Southern Gas Corridor, the statement said.
He also spoke of the work on the construction of interconnectors.
Like Plevneliev, Oresharski also raised the matter of visas, saying that Bulgaria hoped for a more favourable outlook on this issue.
Nuland also met Kristian Vigenin, foreign minister in the BSP government. They discussed US-Bulgaria bilateral relations, Ukraine and the visa issue, according to a foreign ministry statement.
On the morning of Nuland's visit, a small group from far-right ultra-nationalist and pro-Kremlin Ataka party gathered outside the Presidency building, their leader Volen Siderov holding a poster saying "F… the USA", a reference to a statement attributed to Nuland in a leaked conversation about policy on Ukraine, in which she is alleged to have said, "F… the EU".
(Photos: president.bg)
Related stories:
US assistant secretary of state Nuland visiting Bulgaria amid mixed signals in Sofia on Russia
Bulgaria will not veto EU sanctions on Russia, PM says
Bulgarian President's consultative council rejects Crimea referendum, stays quiet on sanctions 
Comments
comments