Russian soldier on Plovdiv hill gets undressed
Aloysha, the soaring landmark monument to the Soviet army on Plovdiv's Bunardzhika hill, was stripped by climbers of the red cloak and black gag with which it had been adorned by anonymous artists some hours earlier on September 21 2013.
At about 4.30pm, the black gag went flapping into the strong autumn wind, and a few moments later, the red cloak tumbled to the paving and rocks below the Plovdiv landmark.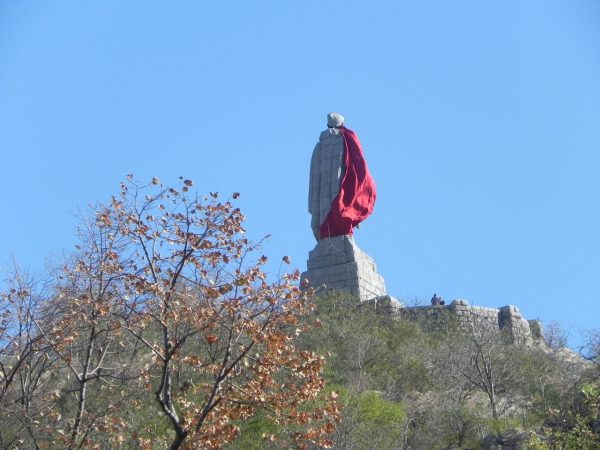 Bulgaria's second city woke to the spectacle of a newly-adorned Aloysha, the mammoth monument (15 metres in all, with the actual figure modelled on World War 2 Soviet soldier Alexei Ivanovich Skurlatov adding up to about 10.5 metres) visible from all points in Bulgaria's second city.
Police initially made inquiries about whether the adornment of Aloysha was part of the September 20 and 21 Night of Museums and Galleries in Plovdiv.
However, Radio Plovdiv reported the Night of Museum and Galleries' Vesselina Sarieva as saying that the draping was not connected to the festival. She was quoted as saying that she was "pleasantly surprised" by the work of the unknown authors and at least did not want to condemn it.
Hristo Markov, one of the anti-government protest organisers in Plovdiv, said, "it wasn't us, but I fully welcome it. It is high time for Plovdiv to rethink part of the legacy of communism".
Speaking to local media, Plovdiv mayor Ivan Totev said that he looked on the Aloysha incident with a sense of humour.
"I am firmly against defacement. But in this case, there was no paint or spraypaint involved. That's why I do not see what happened last night as vandalism," Totev said.
Aloysha was put up in 1954, on the hill that also is known as the Hill of the Liberators and which, slightly lower than the Soviet memorial, has a much earlier memorial to Bulgaria's liberation from Ottoman rule. The Aloysha monument has an inscription, "glory to the invincible Soviet army".
After the end of the communist Zhivkov era in Bulgaria and the beginning of the country's transition to democracy, there were demands from anti-communist political circles for the removal of Aloysha, but like the controversial Soviet Army monument in Sofia, it is protected by international agreements on war memorials.
Aloysha has not been exempt from being conscripted into being a messenger for latter-day political statements. Recently, he featured a banner demanding "resignation!", referring to the continuing anti-government protests that want the current Bulgarian Socialist Party government to step down.
The Soviet Army monument in Sofia has also had its episodes of redecoration, including when its bas-relief figures were redecorated as pop culture superheroes, and in 2013 when it was painted pink in memory of the Soviet-led intervention against the Prague Spring, into which members of the "Bulgarian People's Army" of the communist era were pressed to participate.
(Photos: Clive Leviev-Sawyer and Vessela Tcherneva)
Related stories:
Comments
comments