International Holocaust Remembrance Day and Eastern Europe: Memory recent and distant
International Holocaust Remembrance Day, on January 27 2013, will find recently-opened Holocaust museums in Central and Eastern Europe, with another to come soon; it happens after a year that Auschwitz-Birkenau received a record number of visitors; but it also finds the region still grappling with the legacy of memory and with incidents of anti-Semitism – including at prominent political levels – still spreading their poison.
Seven decades after the Holocaust perpetrated by Hitler's Nazi regime meant the murders of at least six million Jews, the countries of Central and Eastern Europe still face unresolved issues from restitution for claimants to, in at least one case, deportations to death camps being at the centre of a continuing bilateral dispute – in this case, between Macedonia and Bulgaria.
It is not uncommon in Central and Eastern Europe, and in the Balkans in particular, for there to be a lack of consensus on shared history. In some cases, that lack of consensus extends to remembrance and interpretations of the Holocaust, a genocide that stands alone in the history of Europe and the world for a long list of reasons, including not only its scale but also the systematic manner of its execution and the degrees of collaboration in most countries.
Elsewhere in the past 12 months, from Greece to Hungary, statements attributed to far-right politicians have caused public controversies.
The Holocaust and attitudes of some individuals in Europe towards Jews are anything but a subject of abstract debate and distant memory.
Memory
Memorials and museums regarding the Holocaust continue to be put in place in Central and Eastern Europe.
In the Ukraine, where a Holocaust Museum was dedicated in June 2009 in the city of Odessa, a large Jewish centre with a Holocaust museum opened in the eastern city of Dnipropetrovsk in October 2012.
The museum in Dnipropetrovsk occupies close to 3000 sq m in the 50 000 sq m Menorah Centre, a complex of seven buildings in the shape of the traditional Jewish candleholder.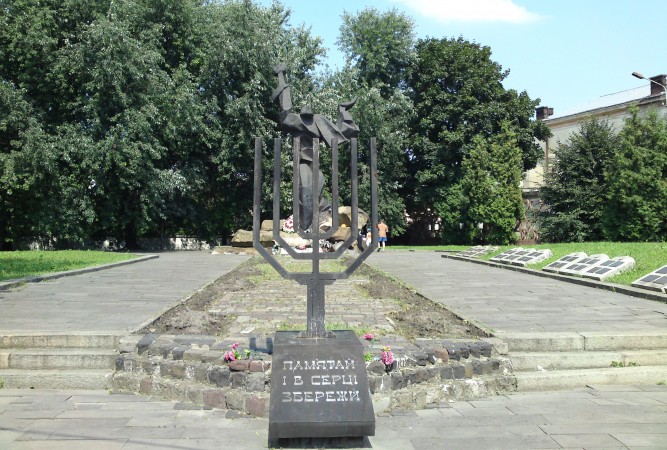 In Slovakia, in October 2012, the cities of Banska Bystrica and Brezno joined many others in 11 countries when as part of the Stolpersteine project, memorial tiles were placed in front of the houses of Jewish people who had been deported to Nazi death camps.
Stolpersteine means, both literally and figuratively, stumbling block.
In the two Slovakian cities, the initiative was organised by Jakub Lunter, a co-founder of the Antikomplex.sk civic association. "I saw these stones in Prague, where I used to live," Lunter told newwire SITA, according to a report by The Slovak Spectator, "and I liked it. Currently, there are several hundred of them in nine Czech cities. The stone, at least symbolically, returns the houses' former inhabitants to the places where they used to live, to the common everyday urban rush from which they were forcibly taken. Unlike a bust or a big statue, a stone does not claim much room in the public space. We are convinced that such an inobtrusive commemoration can tell a story about the names and inhabitants to a passer-by on a normal urban day," he said.
In March 2012, a special train was organised in Slovakia from Poprad to Auschwitz to commemorate the 70th anniversary of the first transport of Slovak Jews to the death camp.
In Poland, the Museum of the History of the Polish Jews is to open in Warsaw on April 19 2013 – close to the date of this year's observance of Yom HaShoah, the commemoration on the Jewish calendar of the Holocaust, which this year starts on the evening of April 7.
The building, in Warsaw's central Muranów district, the heart of what used to be the Jewish district, will be concrete-and-glass structure, divided by a jagged chasm to symbolise the parting by Moses of the Red Sea that allowed Jews to flee from captivity in Egypt. The museum has been developed jointly the government, local government and a non-government organisation, the Association of the Jewish Historical Institute in Poland. A series of eight galleries will tell the 1000-year history of Jews in Poland, including the Holocaust. Before World War 2, there were about 3.5 million Jews in Poland. Today there are about 20 000.
In the capital of Macedonia, Skopje, the Memorial Centre of the Holocaust of Jews from Macedonia was opened in March 2011. As will be further noted below, the current Macedonia's perspective on the Holocaust is a source of tension with Bulgaria.
Elsewhere, other countries in Central and Eastern Europe held their respective commemorations in the past year, not only on the UN's International Day of Commemoration of the Holocaust or – at synagogues – Yom HaShoah services, but also on days of significance to individual countries, such as the anniversaries of the beginning or ending of deportations to death camps.
These included Serbia, although media reports have suggested that the remembrance of the Holocaust is receding from memory in that country and commemoration events are not well-attended, and in January 2012, Turkey became the first predominantly Muslim country to broadcast on television the Holocaust documentary Shoah, directed by Claude Lanzmann.
In Romania, the senate in Bucharest held a memorial session for the victims of the Holocaust from that country. Earlier, in June, Romanian prime minister Victor Ponta visited Auschwitz-Birkenau in Poland, where he reiterated that Romania accepted responsibility for the mistakes that Romanian authorities made during that time.
But Romania encountered controversy in 2012 when Dan Sova was dismissed as spokesperson for Ponta's social democrat PSD party for reportedly saying that Romanians did not take part in the persecution of Jews, denying Ion Antonescu's role in the persecution of Jews and saying that Romanian Jews had suffered exclusively at the hands of the German army.
There was further controversy when Sova as appointed in August 2012 as minister for relations with parliament. The appointment caused outrage among Jewish groups and civic activists.
"It is embarrassing that a Holocaust denier is appointed as a minister," Aurel Vainer, the head of the Jewish community in Romania, was quoted by local media as saying. "We do not want to ask for Mr Sova's removal. We just say that his nomination could be considered as a moment of mourning in our history," Vainer said.
In the most recent cabinet formation, in December 2012, Sova was appointed minister of large projects.
The Sova episode in Romania was just one of the political controversies linked to politicians' statements on the Holocaust and Jews in 2012.
Politics and controversies
None other than US president Barack Obama found himself on the receiving end of Warsaw's ire for referring to Auschwitz as a "Polish death camp".
The incident happened in May 2012 when Obama was awarding a posthumous medal to a World War 2 resistance fighter, Poland's Jan Karski, who alerted the world to the Nazi Holocaust.
Polish president Bronislaw Komorowski wrote immediately to Obama, resulting in a letter in response from the US president apologising for the turn of phrase. Komorowski accepted Obama's apology, saying "I'm also satisfied that the president of the United States has expressed regret at the error he made unwittingly and, I believe, without ill intent". Media in Warsaw, however, said that other leading figures in Poland had wanted more of Obama, including a televised apology in person.
Hungary was seized by controversy when a member of far-right party Jobbik called in parliament for a list to be compiled of Jews who represented a potential "national security risk".
In November, after parliament refused his call for Hungary's legislature to condemn Israeli military strikes in the Gaza Strip, Marton Gyöngyösi of Jobbik said, "I think now is the right time…to count how many people of Jewish descent there are here, and especially in parliament and the government, who pose a certain security risk to Hungary".
His party sought to defend him by saying that Gyöngyösi was referring only to members of Hungary's parliament with dual Israeli nationality, but the statement by Gyöngyösi led to a mass anti-fascist demonstration in Budapest, condemnation by all other parties, and the filing by the Unified Hungarian Jewish Congregation and the Action and Defence Foundation of a criminal complaint against Gyöngyösi.
After it emerged that prosecutors had declined to proceed against Gyöngyösi, a meeting was held between a justice ministry state secretary and Jewish leaders at which the official sought to explain that the statement did not fall in the ambit of the criminal code approved in summer 2012.
Moves against Jobbik proceeded into January 2012. A motion was put in the Parliamentary Assembly of the Council of Europe to expel Hungary's Tamas Gaudi Nagy of Jobbik and Eleni Zaroulia of Greece's ultranationalist Golden Dawn party on the grounds that the parties with which the two were affiliated were "neo-Nazi, racist and anti-Semitic".
In Greece, where elections were held in May 2012 and again the following month, Golden Dawn first entered parliament with 21 out of 300 seats, after having gained seven per cent of the vote. In the June 2012 election, its share was reduced to 18 seats.
In May, a Greek government spokesperson reacted with outrage when, in televised remarks, Golden Dawn leader Nikos Michaloliakos said, "There were no ovens – it's a lie. I believe it's a lie. There were no gas chambers either".
In contrast to the controversy that greeted the remarks by the Golden Dawn leader, the memory of three Greek Orthodox Christians was honoured in June 2012 at a ceremony at which the title Righteous Among the Nations was conferred by Israel on Giorgos Lanara, his wife Panayiota and priest Nestoras Karamitsopoulos for attempting to hide Jewish families from the Nazis in 1942.
In 2012, Croatia did not escape controversy when priests said a mass for the soul of Ante Pavelić, the World War 2 Croatian fascist and leader of the Ustaše movement. Pavelić presided over large-scale brutal murders, including of the vast majority of Croatia's Jewish population and much of its Roma population. Efraim Zuroff, head of the Simon Wiesenthal Centre, said that the mass for Pavelić was a disgrace for the Croatian people and called on the authorities to ban such events in future and on the church to expel the priests. According to local media, a spokesperson for the archdiocese said that anyone could request a mass for a soul.
Across borders
In 2013, Bulgaria and Israel jointly will commemorate the 1943 initiative by senior leaders of the Bulgarian Orthodox Church, civil and political leaders that led to the prevention of the deportation of Bulgarian Jews to Nazi Holocaust death camps.
Arrangements have been made at the most senior government levels and a series of events are to be held.
In all, 20 Bulgarians have been named Righteous Among the Nations, notably among them Bulgarian Orthodox Church Metropolitan Kiril, Sofia Metropolitan Stefan and Dimitar Peshev, who was deputy speaker of parliament (and who was executed after a show trial by a communist kangaroo court after the war on charges including "anti-Semitism").
While Bulgaria stands out among European countries in World War 2 in resisting deportations, while Sofia was allied to Hitler's Berlin, its record has been systematically attacked by Macedonia over the deportation of Macedonian Jews to Treblinka. In 2012, emotions ran high over the Macedonian film The Third Half.
The film, a story about a football encounter in World War 2 between Bulgarian and Macedonian teams, portrays Bulgaria as a nation of Nazis (Bulgarians took exception to, among other things, the Bulgarian flag of the time being portrayed as the familiar tricolour, but – inaccurately – with a swastika imposed on it) was nominated in Skopje for this year's best foreign-language film Oscar, but failed to make the shortlist. Bulgarian criticism of the film, including at European level, has resulted in criticism from across the border of Bulgarians being Holocaust deniers.
This is, of course, part of a wider context of severe difficulties in Bulgarian – Macedonian relations which some leaders are seeking to overcome, but it is also a further illustration that memory of the Holocaust is one that, perhaps especially in Central and Eastern Europe, remains to an extent a contested field.
(Main photo, of the children's memorial at Yad Vashem: Talmoryair)
Related stories:
UN begins commemorations ahead of International Holocaust Remembrance Day
Record interest in Nazi Holocaust Auschwitz-Birkenau death camp
 Holocaust restitution hits gridlock at forum
Bulgaria to join Holocaust international body
Bulgarian FM Mladenov speaks on Macedonia's 'Third Half' film controversy
Of memory, monuments, movies, manuscripts, moral high ground and Macedonia
Hungarian government seeks refund of Jewish reparations
Comments
comments