Bulgarian FM Mladenov speaks on Macedonia's 'Third Half' film controversy
Macedonia's controversial film Third Half, which emphasises Bulgaria's World War 2 role in the deportation to Nazi death camps of Jews from Macedonian areas, has been nominated by Skopje's film body for the 2013 foreign-language film Oscar award – and Bulgarian Foreign Minister Nikolai Mladenov has issued cautionary messages about the approaches that Macedonia should be taking to regional issues.
The Third Half (Трето Полувреме, Treto Poluvreme), directed by Darko Mitrovski and with a 113-minute running time and a reported budget of more than two million euro, is to be shown at an international film festival in Bitola on September 15.
The description of the film posted on movie website IMDB.com describes it thus: "Spitz is the German-Jewish coach of the historic Macedonia Football Team, which during World War II, under his leadership, became the champion of the fascist-controlled National Football League. A true story."
With dialogue in Macedonian, German, Bulgarian, Serbian, Ladino and English, the movie was made with the support of the Macedonian Film Fund, Holocaust Fund of the Jews from Macedonia, The Jewish Community of Macedonia and the Czech State Fund. It was declared a film of a national interest by the Macedonian government, according to its Wikipedia entry.
For the past year, the film has caused annoyance in Bulgarian political and media circles for its portrayal of Bulgaria, an ally of the Third Reich in World War 2 but which also has been honoured by Israel because a number of politicians, civil society leaders and some Bulgarian Orthodox Church leaders prevented Jews in Bulgaria being deported to Nazi Holocaust death camps. Just one of among many aspects of the film with which Bulgarians take issue is that the Bulgarian flag of the time is incorrectly depicted as having a swastika imposed on it.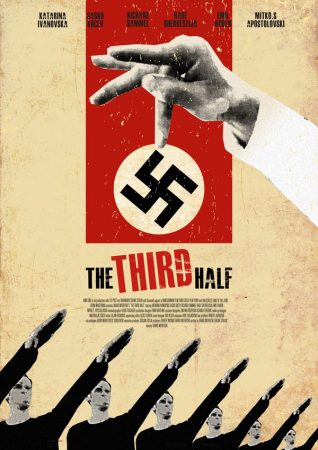 Macedonia media, commentators and some linked to the film have dismissed Bulgarian objections to the Third Half movie as bias and even as Holocaust denial.
Macedonian reports quoted director Mitrovski as telling a news conference ahead of the Bitola showing that the film was "not directed against anyone" but was about love, heroism and the common man.
The news conference was attended by Macedonian culture minister Elizabeta Kanchevska-Milevska and festival director Labina Mitevska.
A video from the Shoah – Steven Spielberg Foundation was shown at the news conference, featuring Holocaust survivor Neta Cohen – portrayed in the film at the centre of its love story – describing how Bulgarians had seized Jewish people and property in Macedonia.
"They (Bulgarians) did bad things. Innocent people got hurt. They took my brothers. The oldest was 28, and the youngest 20. My sister was about 15 years old. My father, 60," Cohen was reported as saying in the video.
Bulgarian Foreign Minister Mladenov, asked about the film on September 14 on public broadcaster Bulgarian National Television's Svetut e Sedem programme, said that when a country wanted to join the European Union, it should be cautious about actions that could lead to confrontations with its neighbours. (Macedonia submitted an EU membership application in 2005; as of March 2012, the EU was to begin conducting a high-level accession dialogue with Skopje.)
A country aspiring to EU membership should take a constructive approach in neighbourly relations, as Bulgaria had done, Mladenov said.
He said that there were a number of unresolved issues involving various European countries and if all of these were opened, this would destroy the EU faster than the financial crisis.
Mladenov said that Bulgaria was a country "big and serious enough that one film will not demolish it".
He said that a few days earlier, in Jerusalem, Bulgaria and Israel had agreed on commemorations in 2013 of the anniversary of the saving of Jews by Bulgaria, and that the commemorations would remember all who died in those years.
Again, he cautioned against using history for political ends.
Earlier in the same interview, Mladenov said that there were good people-to-people relations  between Bulgarians and Macedonians, as there were in trade and tourism, but "the problems arise when some people try to come up with ideological constructions out of the past".
The Third Half saga is one of a series of what Bulgaria has seen as provocations by Macedonia on historical issues. In a recent letter, Bulgarian President Rossen Plevneliev welcomed a stated call by his Macedonian counterpart Gjorge Ivanov to leave history to historians and to be orientated  towards a European future – with Plevneliev adding that he hoped to see Macedonia show this in deeds and not just words.
According to Variety, the Academy of Motion Picture Arts and Sciences will announce the five nominees for foreign-language film on January 15. The 85th Academy Awards ceremony takes place on February 24 2013.Bulgaria's nominee in the foreign-language film category in the Oscars is Ketsove ("Sneakers").
Comments
comments