Bulgarian government signs co-operation memorandum with World Jewish Congress, 'Shalom'
Bulgaria's Deputy Foreign Minister Georg Georgiev, who is the country's National Co-ordinator for Combating Antisemitism, has signed on behalf of the government a memorandum of co-operation with the World Jewish Congress and the Organization of the Jews in Bulgaria "Shalom", the Foreign Ministry said.
The memorandum, approved by Prime Minister Boiko Borissov's government on November 21, envisages joint action in preventing and combating antisemitism and improving the security of the Jewish community.
The agreement will establish a mechanism to develop regular consultations and co-operation to exchange information, experiences and best practices, the statement said.
Georgiev said that the document will guarantee the commitment of the three parties to the implementation of a comprehensive approach to preventing and counteracting any form of antisemitism, to be ensured through the development and implementation of an Antisemitism Action Plan for the period 2019-2022.
"By signing this memorandum, our government not only states that antisemitism will not be tolerated but also takes concrete steps to ensure that Jewish communities feel secure in Bulgaria," he said.
There will be co-operation in educational and cultural programmes and activities targeted at young people, civil servants and the general public, with a view to raising awareness and understanding of antisemitism and promoting tolerance. Attention is also paid to measures to counteract hate speech on the internet.
The memorandum was signed on behalf of the WJC by its chief executive and vice-president Robert Singer and on behalf of Shalom by its president, Associate Professor Alexander Oscar.
Singer was visiting Bulgaria, where he has held talks with Prime Minister Borissov, President Roumen Radev, Sofia mayor Yordanka Fandukova, among others. At a ceremony on November 22, the country's high state honour the Madara Horseman was conferred on Singer for his role in building bilateral relations.
Accompanied by leaders of the Bulgarian Jewish community, Singer held talks with Bulgarian Orthodox Church Patriarch Neofit and other senior clergy.
According to a statement by the Holy Synod of the Bulgarian Orthodox Church, Singer reiterated the gratitude of the Jewish people for the role the church's leadership played 75 years ago in rescuing the Bulgarian Jews from death in the Holocaust.
The statement quoted Singer as saying that what the church had done was an example of progressiveness and true love. "We should speak more about that to the younger generation," he said.
It quoted Patriarch Neofit as saying that "the Bulgarian church and our people are peace-loving, we will stand up and struggle for peace to achieve it".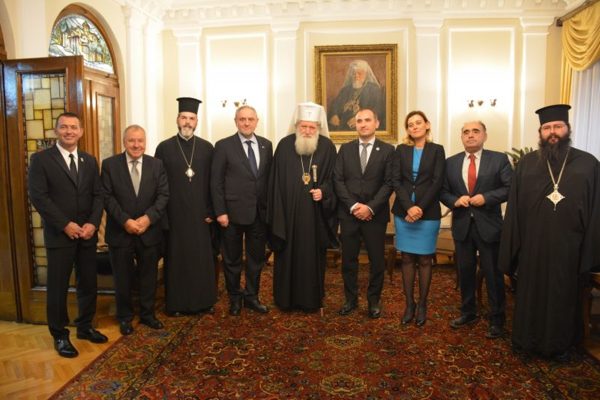 (Photos: Bulgarian Ministry of Foreign Affairs, and the Bulgarian Orthodox Church Patriarchate)
Comments
comments