Archaeology: Ivory icon, rare Byzantine gold coin found at Bulgaria's Rusokastro fortress site
Archaeologists working at the Rusokastro fortress site near Bourgas on Bulgaria's southern Black Sea coast have made a rare find, an ivory icon that they believe would have belonged to an emperor.
News of the find of the ivory icon comes a few days after the finding of a rare gold coin from the time of the Byzantine emperor Phocas, which the dig team believes proves that the Rusokastro – also known as the "Red Fortress" was working in the sixth century CE.
Commenting on the finding of the ivory icon, Milen Nikolov, head of the Regional History Museum in Bourgas, said that ivory was extremely valuable, "much more valuable than gold in the Middle Ages".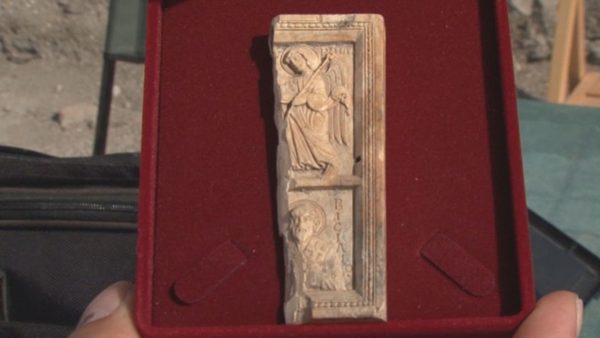 Items such as this one made from it would have been only for emperors, he said.
The Rusokastro mediaeval fortress was built at a strategic location, with a complex fortification system, meant as an impregnable defence of the border with Byzantium.
At the end of the 14th century, when Thrace was conquered by the Ottoman Turks, the local population left the countryside. In its most inaccessible part, however, a royal palace was erected.
"Historically, it is definitely the place where Tsar Ivan Alexander, Emperor Andronik III Paleologus, and probably King Todor Svetoslav Terter resided, Nikolov said.
The only other ivory icon discovered in archaeological excavations in Bulgaria was at Trapezitsa, more than a century ago.
On July 20, Bulgarian National Television reported the finding of the rare gold coin from the time of emperor Phocas.
This is the first and only coin ever found from the time of Phocas's rule.
The discovery proved conclusively that the Rusokastro Fortress was actively used during the first period of the consolidation of the rock hill – in the sixth century and the beginning of the seventh century when it was abandoned.
Nikolov said that the coin weighed four and a half grams and was the largest denomination in Byzantine coinage.
Rusokastro is the largest mediaeval fortress in southern Bulgaria, similar in size to Tsarevets, Trapezitsa, Cherven and Kaliakra. The walls are more than five metres high.
(Photos: bTV, BNT and the Ministry of Tourism)
/Panorama
Comments
comments