Bulgaria elections 2017: Daily roundup, March 22
With four days to go to Bulgaria's March 26 parliamentary elections, the first announcements began coming out about various parties' campaign-closing events.
One paid publication, for instance, said that the ABC-Movement 21 electoral coalition's event would be on March 23 in Zaimov Park in Sofia. It did not say what time, so perhaps ardent supporters should just be at the park early in the morning and wait for something to happen. The weather should be fairly nice.
The parties and coalitions competing for shares of the 240 seats in the National Assembly might be well-advised not to give up – or feel complacent about success – too early, though.
On the evening of March 21, Bulgarian National Television reported that a poll done by Alpha Research for its weekly Panorama political talk show had found that 21.6 per cent of Bulgarians had not decided yet who to vote for.
GERB leader Boiko Borissov was still on the campaign trail, which took him to a tunnel. Perhaps hoping to see light at the end of it.
On the ground so familiarly associated with GERB in the elections in recent years, Borissov talked about the infrastructure projects that his government would finish in its next term in office.
Presumably, that is if he gets the most votes and forms a government, given that he has said he will not accept a mandate if GERB runs second; perhaps if some other party runs the country after these elections, they could just wait for Borissov to return to power one day and finish the tunnels and motorways he was talking about.
Borissov made reference to this: "People should vote wisely and decide what type of government they want. If they choose another party, I'm sure there will be no Hemus motorway or tunnel under Shipka".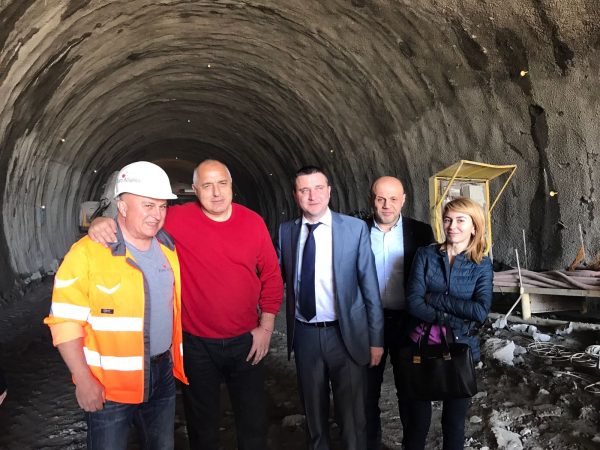 Meanwhile, something was heard from Borissov on a topic other than motorways, in a Reuters interview in which he said that his party continued to oppose Russia's annexation of Crimea, because when boundaries are changed by force, Bulgaria becomes vulnerable.
We also heard from the United Patriots on a topic other than their constant whingeing about Turkish interference in Bulgaria's elections. Krassimir Karakachanov and Valeri Simeonov, two of the coalition's co-leaders (a third is Ataka's Volen Siderov) were on breakfast television on Wednesday, explaining how their respective families live on about 1200 leva (about 613 euro) a month.
Simeonov said that his two-member family spent about 1000 to 1200 leva. He had never taken out a loan, he said.
Karakachanov said that he had not done precise sums, but estimated his household spending as between 1200 to 1500 leva. "I have no loans. My biggest expense, unfortunately, is cigarettes." It turns out that the VMRO leader is a two-pack-a-day chap.
If anyone could stand to hear more details, Simeonov's car is a 12-year-old Citroen C5 (in very good condition) while Karakachanov drives a Dacia Duster. All of this product placement aside, both were at pains to underline they do not use chauffeurs, security guards paid for by the taxpayer or official cars provided by Parliament.
Leaving these two to establish their man-of-the-people credentials, we may join Kornelia Ninova in the town of Shoumen, where she was telling residents that her Bulgarian Socialist Party "will make principled coalitions, not just for power".
Picking up the continued controversy around Turkish intervention and Ankara's backing for Lyutvi Mestan's DOST party, Ninova said that Borissov was trying to distance himself from DOST and convince people that GERB would not enter a coalition with Mestan's party.
"You cannot convince us, Mr Borissov", Ninova said, saying that in the November 2016 presidential election campaign, DOST had campaigned in Turkey for Tsetska Tsacheva – the failed candidate nominated by GERB.
Borissov also had denied that he would work with the MRF, but he had done so behind the scenes, Ninova said. "In the 43rd National Assembly, the most important decisions about Bulgaria were taken with the votes of the MRF," Ninova said.
She said that the BSP's past coalitions with the MRF had been "public and clear and we have to suffer the consequences of this. Those with Borissov are always hidden and backstage".
Ninova went on to rule out a BSP-MRF coalition government.
The Reformist Bloc-Glas Naroden's Naiden Zelenogorski was extolling the virtues on March 22 of his coalition being in Parliament, because – he said – this would guarantee Bulgaria a centre-right government and would give GERB and the BSP no excuse to form a joint government.
(Throughout this election, various parties have propounded the conspiracy theory that GERB and the BSP have a secret deal. Both of the latter parties repeatedly have denied this.)
Zelenogorski said that a GERB-BSP coalition would be "very dangerous because then there is no clear division of responsibilities".
/Politics
Comments
comments