Sofia's Ancient Serdica archaeological complex opens
The Ancient Serdica archaeological complex, the result of five years' work and a 15 million leva budget, opened in central Sofia on April 20 2016, offering visitors a glimpse into the Bulgarian capital city's ancient Roman past.
In attendance at the opening were Prime Minister Boiko Borissov, Culture Minister Vezhdi Rashidov, a large number of other members of the Cabinet, European Commission Representation head Ognyan Zlatev, several foreign diplomats and senior officials from state cultural institutions and Sofia municipality.
The complex, largely below street level and covering an area of about 9000 sq m, includes eight streets, an early Christian basilica – believed to have been built in two stages in the fourth to late fifth centuries, and the fifth to late sixth centuries, and the largest and earliest found from ancient Serdica – six large buildings and a late mediaeval church.
Signs in Bulgarian and English explain the sights to be seen within the complex, including the Felix House, a 650 sq m building of several rooms around an inner courtyard, dating from the fourth to sixth centuries CE, and so called because an inscription found on the mosaic floor of the house has been interpreted as indicating the name of its owner, Felix, an important resident of Serdica. The Felix Mosaic is also on display.
Elsewhere, there is the House of Leontius, of 600 sq m, believed to have built between the fourth and sixth centuries CE. Archaeologists who worked on the project say that the house may have been that of Leontius, archbishop of Serdica in the closing decades of the sixth century.
A major attraction within the complex is the Decumanus Maximus, which would have been the main street in Roman times of the city that later would become Sofia.
Beneath the series of large glass domes through which the modern-day buildings that house the Cabinet and the Presidency offices are visible, there is a stage, intended for use for theatre, concerts and other events.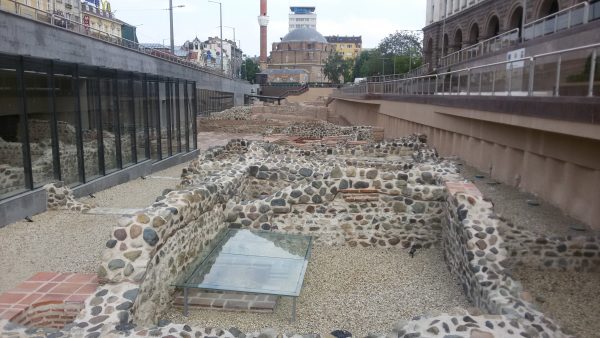 The project has not been universally welcomed, because of a controversy over latter-day reconstruction of parts of the buildings and walls, which a small group of protesters turned out to protest against, dismissing the project as kitsch.
(All photos (c) Clive Leviev-Sawyer, The Sofia Globe. All rights reserved.)
/Leisure
Comments
comments