What's On: Anneke van Giersbergen and Arjen Lucassen's 'Gentle Storm' at Sofia's Modern Theatre on February 20
A live production of the Gentle Storm, the Arjen Lucassen-Anneke van Giersbergen project and double concept album, comes to the Modern Theatre in Sofia on February 20 2015.
Two of the Netherlands' most renowned modern musicians, Lucassen and Van Giersbergen have a working relationship dating back to 1998.
Ayreon mastermind/multi-instrumentalist Lucassen and vocalist Van Giersbergen – who rose to fame with The Gathering – originally crossed paths in 1998 for Ayreon's breakthrough third album, Into The Electric Castle.
Ten years later they teamed up again for Ayreon's seventh album, 01011001, both having established themselves as world renowned heavy metal / rock artists in the decade between releases.
Although their respective musical styles went in vastly different directions during that time, Arjen and Anneke retained a common ground that ultimately led to the creation of The Gentle Storm.
The Gentle Storm double album is an epic production of Ayreon proportions, divided into two parts as a full-on metal assault (CD1) and lighter folk arrangements (CD2). It also heralds Anneke's return to the realms of heavy guitars and soaring vocals reminiscent of The Gathering's breakthrough album, Mandylion.
Due out in early 2015, the album release will be followed by live dates through the spring and summer European festival season. Known for touring extensively year after year, Anneke will take The Gentle Storm on the road backed by well-known Dutch talents.
The February 20 performance, at 7pm at the Modern Theatre, is part of that tour. Tickets cost 35 leva, and are available at Gorgon shop at 8 Uzundzhovska Street and online via Ticketportal and Eventim.bg.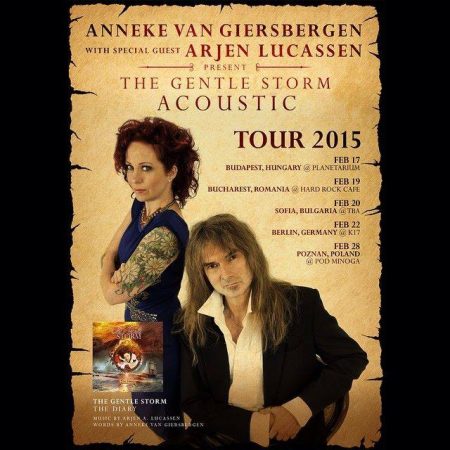 The Modern Theatre is at 12 Vurbitsa Street, Sofia.
Comments
comments