Pieces of eight: Party perspectives on a Bulgarian coalition
In the first 24 hours after polls closed in Bulgaria's October 5 2014 parliamentary elections, the eight parties elected put forth their perspectives – to varying degrees of clarity – on the formation of a coalition government.
Boiko Borissov's GERB, at close to 33 per cent the winner of the biggest share of the vote, wants to form a minority government with Borissov as prime minister and other parties, together mustering at least 120 MPs, agreeing to support the party's governance programme. It does not want to be in government with the MRF or the BSP.
The Bulgarian Socialist Party says it is going into "constructive, loyal" opposition.
The Movement for Rights and Freedoms says that it wants to see a government working on the basis of national consensus and a Euro-Atlantic programme.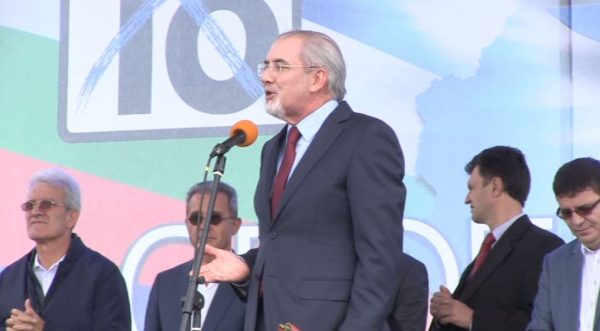 The Reformist Bloc does not want Borissov to be prime minister, while wanting an "optimum programme within an optimum timeframe" and would support a coalition government only if that government endorsed the bloc's election programme.
The ultra-nationalist Patriotic Front says parties should agree on the "major priorities" facing the nation (these, in the view of the Front, including high unemployment, low salaries, economic collapse, poor health care, the demographic crisis, crime, corruption, draining of customs revenue and property crime by Roma people) and wants a "government of national salvation". It is not willing to hold talks with the MRF.
Nikolai Barekov says his Bulgaria Without Censorship party wants a government formed as soon as possible, a "broad pro-European majority in Parliament, with clear political responsibility and clear support from groups", with each group deciding if it wants to participate in this broad format. He said a coalition including the MRF was "impossible" and said the government should include no party leaders.
Ataka leader Volen Siderov, asked if he would support a Borissov government, said he would support one that raised incomes and chased away monopolies. GERB had the largest number of votes and it should state its intentions, he said. "If you are talking about talks with political formations, these have to be based on what you see a problem number one. For us, that is low incomes, low pensions, the vast majority of Bulgarians live badly. We will not work with a party that does not want to raise incomes".
Georgi Purvanov's ABC, a breakaway from the BSP, would not support a coalition that included the MRF but is willing to engage in "constructive partnership" with other parties.
Comments
comments