Bulgarian anti-government protesters blockade interior minister in restaurant
A group of Bulgarian anti-government protesters blockaded Tsvetlin Yovchev, interior minister in the Bulgarian Socialist Party government, in a central Sofia restaurant for some time on December 14, the day marking six months of the protests.
Restaurant staff prevented the protesters from entering the restaurant.
Yovchev left the restaurant after more than an hour, after police arrived. It appeared that he was escorted out through a rear exit.
Reporters at the scene said that protesters quipped that it took 250 police for the interior minister to be able to leave the Krakra Street restaurant.
An Interior Ministry statement said that four people were arrested in the course of the evening. Three were held for not obeying police orders and the fourth for allegedly using pepper spray on police.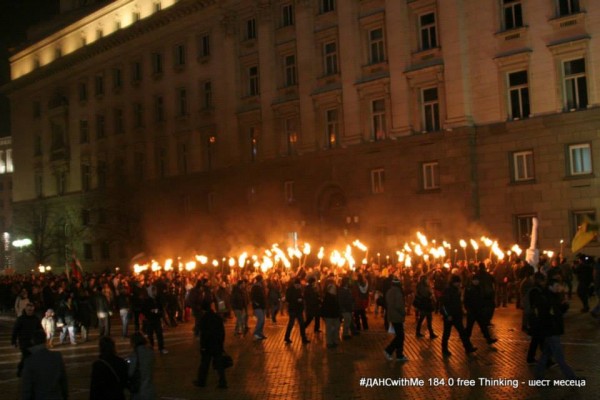 The protest on December 14 at 6pm, marking six months since mass anti-government protests began in reaction to the controversial appointment of Delyan Peevski, a media mogul twice elected as a member of Parliament for the Movement for Rights and Freedoms, as head of the State Agency for National Security.
Tensions rose at about 7.30pm as some present began kicking the heavy barricades surrounding the National Assembly building.
Reporters present said that eyewitnesses reported seeing a man kicked by a policeman after falling to the ground, while a girl was hit in the face with a truncheon.
Two recent opinion polls, by Market Links and by Alpha Research, showed majority support for the overall anti-government protests and the student protests, for demands for the resignation of the government and early elections, while polls also have showed approval of the cabinet at a record low, with the majority of cabinet ministers recording approval ratings of less than zero.
(Main photo: Ivo Bojkov. Other photos, unless otherwise specified: facebook.com/noresharski)
Comments
comments