2013 Sofia Science Festival opens on May 9
This year's Sofia Science Festival is from May 9 to 12 in Oborishte Park in the centre of the Bulgarian capital.
The programme, suitable for children and fascinating for all ages, includes appearances by, among others, Science Made Simple founding director Wendy Sadler of the UK, on the theme of "music vs machine", described as "a journey of discovery about sound waves, music, and the machines that are now so essential to the music industry"; Menelaos Sotiriou of Greece, on innovative ways to involve teachers and students in e-Science; Italy's Professor Massimo Mazzini on "evolution of the egg"; and two talks and a book-signing by Jim Al-Khalili, on his favourite puzzles and conundrums in science, and the contribution of Arabic science.
There is also an "explorer programme", which features scientists all of whom are fluent in English:
* A caffeine analyser – bring your coffee or tea and check how much caffeine there is. Why not test if the decaf is indeed caffeine-free? Samples will be tested and recorded, so watch out for what's been already tested Marble foyer – every day
* Chemical and physical demonstrations involving a lot of colour, blasts, smoke etc
* A polar tent
* A climbing wall and during the weekend – a veterinarian to go with it she'll be talking of evolution, climbing habits etc
* Architecture workshop
* The Zone 42 tent – technologies of the future – Robco the Robot developed by the Bulgarian Academy of Sciences, a Smart House programmed by two young students.
Full details of dates, times and events can be found here.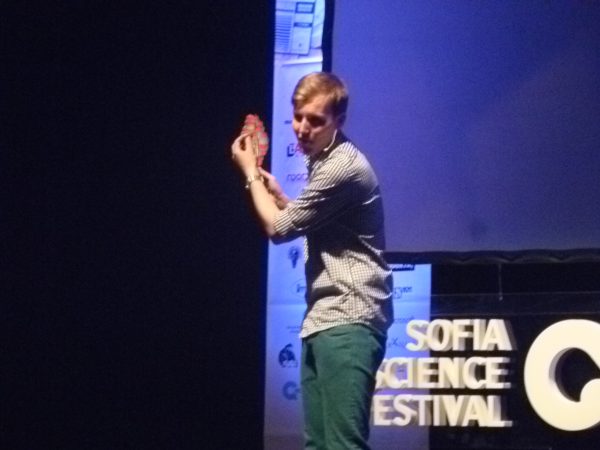 (Photos from the opening ceremony: Leah Sawyer)
Comments
comments