Eurobarometer poll: Low levels of financial literacy across the EU
Only 18 per cent of EU citizens have a high level of financial literacy, 64 per cent a medium level, and the remaining 18 per cent a low level, according to the results of a Eurobarometer survey, the results of which were published by the European Commission on July 18.
There are, however, wide differences across Member States. In only four Member States, more than 25 per cent of people score highly in financial literacy (the Netherlands, Sweden, Denmark and Slovenia).
In Bulgaria, where 1010 people were polled between March 20 and 31, a total of 20 per cent were rated as having high financial knowledge, based on the number of correct responses to five financial knowledge questions. The EU average was 26 per cent.
The poll found that 54 per cent of Bulgarians had medium financial knowledge and 26 per cent low financial knowledge.
As to financial behaviour – a count of the number of "financially savvy" behaviours related to choosing products, keeping track of expenses and striving to achieve financial growth, 67 per cent of Bulgarians polled got a high score, while the EU average was 65 per cent.
Combining the financial knowledge and financial behaviour scores in a weighted sum, 15 per cent of Bulgarians polled had a high level of financial literacy, against the EU average of 18 per cent. Sixty-five per cent of Bulgarians had medium financial literary and 20 per cent low financial literacy.
The European Commission said that the results of the poll across the EU pointed to the need for financial education to target particular groups including women, younger people, people with lower incomes and those with lower levels of education who tend to be on average less financially literate than other groups.
Mairead McGuinness, European Commissioner for Financial Stability, Financial Services and the Capital Markets Union, said: "This first ever EU survey on financial literacy is a wake-up call for us and member states: together we need to do more to improve levels of financial literacy in the EU".
Only about a quarter of the respondents in the EU answered at least four out of five questions on financial knowledge correctly.
About half answered only two or three questions correctly, with another quarter finding questions particularly challenging (they either could not answer any questions correctly or managed to answer only one out of five).
Among the best performers are the Netherlands, Denmark, Finland and Estonia where about four in 10 respondents display a high level of financial knowledge (43 per cent, 40 per cent, 40 per cent and 39 per cent, respectively).
Most of the respondents (65 per cent) comprehend the impact of inflation and its potential consequences on purchasing power. Only 45 per cent of the respondents understand how compound interest works, despite the importance of this concept for managing personal finance and achieving long-term saving goals.
Regarding the understanding of investment risks, 66 per cent of the respondents correctly associate higher returns with greater risks, while 56 per cent rightly identify that investing in a diverse range of companies is likely to be less risky than investing in just one company. Finally, only 20 per cent of the respondents demonstrate an understanding of how interest rates affect bond prices.
About nine in ten respondents across the EU agree that, before they buy something, they consider whether they can afford it (51 per cent 'completely agree' and 41 per cent 'somewhat agree' with this statement). A similar proportion of respondents agree that they keep track and monitor their expenses (49 per cent 'completely agree' and 43 per cent 'somewhat agree'). About seven in 10 respondents agree that they set long-term financial goals and strive to achieve them
About three quarters of respondents across the EU report being comfortable with using digital financial services, such as online banking or mobile payments; 36 per cent reply being 'very comfortable' and 41 per cent 'somewhat comfortable'. This figure is more than 60 per cent across all member states, and is the highest in Finland (95 per cent).
Only roughly one in three Europeans trusts the investment advice they receive. Only 38 per cent of EU respondents are confident that the investment advice they receive from their bank, insurer or financial advisor is primarily in their best interest (with 45 per cent explicitly stating that they do not trust it).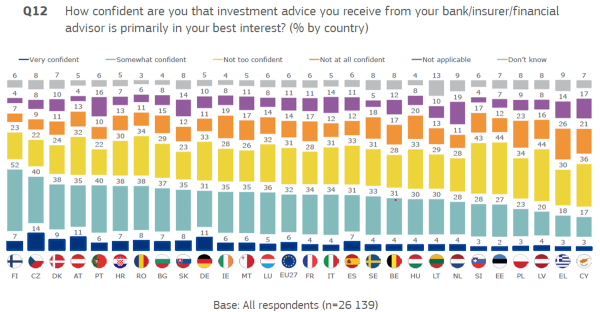 Nevertheless, the level of confidence in advice varies considerably among the member states: citizens from Finland (59 per cent), Czechia (54 per cent), Denmark (47 per cent) trust more in the advice received; citizens from Cyprus (20 per cent), Greece (21 per cent) and Latvia (24 per cent) have much less trust.
Across the EU, 46 per cent of respondents reply that they have (or, in the past two years, have had) non-life insurance, such as household insurance or motor insurance; 31 per cent report to have (or, in the past two years, have had) life insurance.
About a quarter of respondents (24 per cent) reply the same about an investment product (funds, stocks or bonds) and 22 per cent about a private pension or retirement product.
One in five respondents answer that they have (or, in the past two years, have had) a mortgage or home loan and 14 per cent reply the same for a consumer loan. Finally, six per cent reply that they have crypto-currencies (or to have had these in the past two years).
When asked how long they would be able to continue to cover their living expenses, without borrowing any money or moving house, in case they lost their main source of income, one third of respondents (33 per cent) reply this would be six months or more, followed by 18 per cent who state this would be at least three months (but not six months). Nevertheless, 16 per cent of respondents state that they do not have any emergency savings.