Borissov in Riyadh: Talks on strengthening political, trade and investment ties between Saudi Arabia and Bulgaria
Topics ranging from the fight against terrorism to statements of Saudi Arabian interest in investing in five-star hotels in Bulgaria were on the agenda in various talks on November 30 between the Bulgarian government delegation headed by Prime Minister Boiko Borissov and Saudi counterparts.
Saudi Arabia is interested in boosting trade with Bulgaria, Deputy Minister of Energy, Industry and Mineral Resources Dr Abed Al-Saadun told Borissov.
He said that Saudi Arabia in interested in co-operating with Bulgarian businesses in the field of industry, metallurgy, construction and production of building materials, as well as in the construction of plants for the production of energy from renewable sources – an area in which Bulgaria has highly qualified specialists, a Bulgarian government statement said.
Borissov confirmed the availability of expert exchange opportunities and training of energy specialists, saying that Bulgaria has good traditions and qualification programmes in this respect.
"We are ready to work to promote co-operation and exchange of information on issues of mutual interest," he said, and expressed the expectation that Bulgarian companies would be involved in project implementation in Saudi Arabia.
Borissov said that as an important transit centre for Central Asia and Middle East energy flows to Europe, Bulgaria was interested in stepping up dialogue and co-operation between producer countries, transit countries and energy-consuming countries.
"We believe there are good opportunities to establish fruitful partnerships and we are ready to step up co-operation in the energy field," he said.
In talks between Bulgarian Foreign Minister Ekaterina Zaharieva and her Saudi counterpart Adel bin Ahmed Al-Jubeir, specific actions to strengthen practical co-operation were identified, a Bulgarian Foreign Ministry statement said.
"At the political level, we have good relations, but with unrealized potential," Zaharieva said, adding that Saudi Arabia also had a plan adopted in 2016 to diversify their investment intentions and look for investments in all spheres.
She said that she had briefed her counterpart on the opportunities for investments in high technology in Bulgaria.
Zaharieva spoke to her Saudi counterpart of the highly-qualified human capital in Bulgaria, a country that has the largest number of IT professionals per capita in Europe, the Foreign Ministry statement said. She also spoke of the development of the pharmaceutical and electronics sectors and start-up companies.
"Every fourth component of your car is produced in Bulgaria," Zaharieva told Al-Jubeir.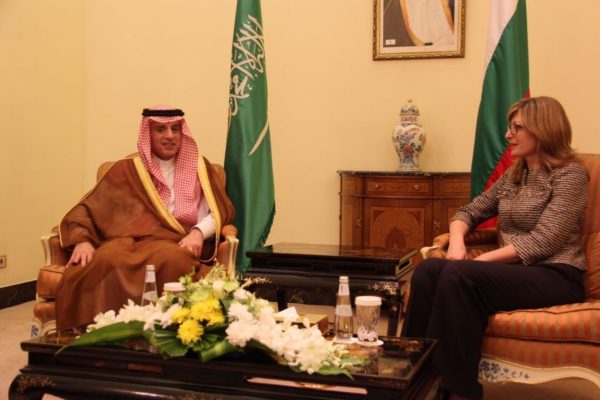 The Saudi foreign minister said that he saw many investment opportunities, especially in high-tech, robotics, tourism and agriculture.
The statement said that the opportunities offered by Saudi Arabia's Public Investment Fund, founded in 1971, to invest funds on behalf of the government of the Kingdom, would be explored. The fund has a portfolio of approximately 200 investments with equity, lending or guarantees.
In July 2014, Saudi Arabia's Cabinet of Ministers gave the fund the opportunity to fund new companies outside of the kingdom, expecting it to become the world's largest sovereign fund with assets of $2 trillion.
So far, the kingdom has funded a number of leading companies in Asia and Europe through this tool, and in May 2017, during the visit by US president Donald Trump to Riyadh, investments of $ 40 billion were announced, the Bulgarian Foreign Ministry statement said.
The meeting between the foreign ministers also identified measures to strengthen political contacts. The Saudi foreign minister accepted an invitation to visit Bulgaria, and promised full support for finding a building for the future Bulgarian embassy in Riyadh, which is to be opened in the first half of 2018.
The two foreign ministers discussed a number of regional issues and issues on the international agenda, focusing on security and the fight against terrorism, the statement said.
Bulgaria and the Kingdom of Saudi Arabia are partners in the US-led Global Coalition to Counteract IDL, with Bulgaria consistently supporting international efforts to curb terrorist financing and prevent the passage of foreign fighters to conflict areas, the Foreign Ministry said.
Sultan bin Salman bin Abdulaziz al-Saud, president of the Tourism and National Heritage Committee of the Saudi tourism ministry, said that his country was interested in investing in five-star hotels in Bulgaria and was keen on actively investing in the country, a government statement said.
"Your country has great potential not only for investment in tourism but also in all sectors of the economy," he said in a meeting with Bulgarian Tourism Minister Nikolina Angelkova, according to the statement.
Angelkova told him of the huge opportunities for development of different types of tourism – spa, cultural-historical, health and maritime.
"Last year, the number of visits by Saudi Arabians to Bulgaria rose by 78 per cent compared to 2015. There has also been a significant increase in trips of Bulgarians to the Arab country," Angelkova said, calling for promotion of bilateral contacts in tourism.
Bulgaria and Saudi Arabia signed a memorandum on co-operation in tourism in October 2016.
Comments
comments