Interior Ministry: Northern, north-eastern Bulgaria expected to be worst-hit by coming heavy snowfalls, strong winds
The heavy snowfalls and strong winds forecast for the next few days are expected to hit northern and north-eastern Bulgaria the hardest, while there is a "real danger" to Smolyan and Pazardzhik, the Interior Ministry said on January 4.
The areas expected to be most-affected in the coming day are Bulgaria's main Black Sea city Varna, Rousse on the Danube, as well as Silistra, Dobrich, Shoumen and Razgrad, the ministry said after a meeting of the crisis staff to review plans to deal with the expected winter weather crisis.
Snowdrifts of up to 50cm are possible, going by weather forecasts presented to the ministry on January 4.
At the same time, the "code yellow" potentially hazardous weather warning – for snow and ice – was issued for January 5 for Blagoevgrad, Kyustendil, Montana, Pernik, Vidin, Gabrovo, Lovech, Pazardzhik, Plovdiv, Vratsa and for Bulgaria's capital city Sofia and the region around it.
On January 5, snow cover in Sofia would reach up to 15cm, weather forecasters said.
The Bulgarian Interior Ministry crisis staff reiterated its call to the public to avoid travelling to north and north-eastern Bulgaria unless this was absolutely necessary.
Roumyana Buchvarova, Interior Minister and Deputy Prime Minister, said that the crisis staff would meet over the next few days and would regularly provide updates to the public.
Buchvarova said that information about the potentially hazardous situation in north and north-eastern Bulgaria and in Smolyan and Pazardzhik was preliminary. The situation would be monitored and new forecasts prepared every three hours.
She said that the headquarters would work closely with local authorities and regional governments.
Buchvarova said that she had spoken with the Ministry of Defence, which was ready to help in case of need.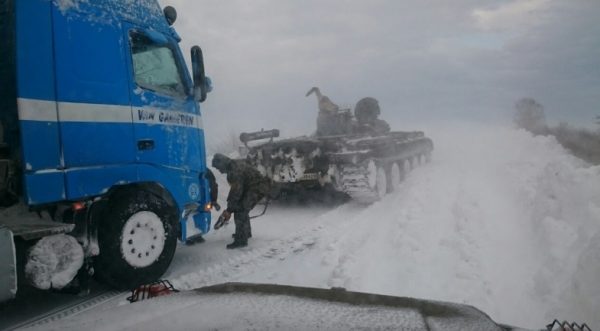 Transport Minister Ivailo Moskovski said that his ministry had taken every step to ensure an appropriate response in the event of difficulties. There were plans not only to assist on the roads but also with railway and water transport.
The National Railway Infrastructure Company and transport construction unit had provided additional teams, and their main tasks would be rapid repairs to railway overhead lines damaged by strong winds or fallen trees and branches.
Moskovski said that his ministry had been in touch with mobile phone operators who said that all their stations were equipped with backup batteries and diesel generators.
Transport companies had been contacted to ask them to minimise movement between January 5 and 8, and to embark on journeys only in the most urgent cases, with well-prepared vehicles, with proper tyres, fuel and equipment.
All carrier associations had been informed by e-mail to take into account the expected complexity of the situation.
Energy Minister Temenuzhka Petkova said that the main risks to the energy system had been analysed so that steps could be taken to ensure that it works smoothly.
All three energy distribution companies – CEZ, EVN and Energo Pro – had provided additional teams to respond to damage.
Petkova said that the ministry had contracts to call on helicopters and drones if required.
All power plants had been secured and the mines would be able to supply additional coal to plants in the Maritsa basin. Problems with gas supplies were not expected and the Chiren gas storage facility had sufficient quantities, according to Petkova.
At a scheduled regular Cabinet meeting on January 4, Prime Minister Boiko Borissov said that he wanted Motor Vehicle Administration Executive Agency teams monitoring the traffic situation throughout the country.
Borissov asked for monitoring of the movement of lorries "because these outrages must cease".
He was referring to the crisis situation of the past weekend, when serious traffic problems in snowbound eastern Bulgaria were compounded by lorry drivers not heeding restrictions on the movement of vehicles of more than 12 tons.
Borissov said that he wanted cars not to be allowed to enter troubled areas and told Defence Minister Nikolai Nenchev that he wanted the army ready with heavy equipment.
"In place must be regional directorates, firefighters, road cleaning equipment – everything," Borissov said, according to an official transcript of the Cabinet meeting.
The Road Infrastructure Agency has all machines ready to clear motorways and main roads across Bulgaria, a statement said.
Those travelling by car were urged that should the road situation worsen, they should stop at the first available car park and wait out the situation, rather than fall into a snow trap the way that motorists did on the eastern part of Trakiya Motorway last weekend.
As was announced earlier, all schools in Bulgaria are to remain closed on January 5 and 6, extending the scheduled Christmas holiday, and will re-open on January 9.
Deputy Health Minister Vanyo Sharkov said that emergency medical services centres and hospitals had been told to check on available equipment and medical supplies and to ensure vehicles are fuelled and on standby to transport patients. Medical facilities had been told to transport patients on dialysis and mothers-to-be expected to deliver in the next few days, to avoid difficulties in transporting them when the bad weather hits.
Sharkov said that the ministry had an agreement with the Bulgarian Air Force and a private flight company to assist if needed.
National Traffic Police chief Boiko Ranovski said that the maximum number of traffic police had been mobilised, to make it possible to close roads as required as quickly as possible and to enable snow-clearing machines to operate.

Bulgaria's Labour Inspectorate issued a reminder on January 4 to employers regarding their employees in the case of hazardous weather conditions.
In the event of the declaration of a code orange or code red dangerous weather situation, employers whose staff work outside are obliged by law to take appropriate steps, including possibly changing working hours, introducing more frequent breaks, changing the assignment to one safer under the circumstances, providing appropriate personal protective equipment, and hot drinks, among other steps.
Other obligations of employers include providing first aid and appropriate transport for employers who fall ill.
In rooms where employees are, temperatures must be between 16 and 23 degrees Celsius, while lower temperatures are acceptable only if the employees are required to do strenuous physical labour.
/Panorama
Comments
comments