Bulgarian government grants 10M leva to assist blast-hit Hitrino village
The Bulgarian government is granting 10 million leva (about 5.1 million euro) to assist the village of Hitrino, Prime Minister Boiko Borissov said at a special meeting of the Cabinet on December 12.
The special meeting of the Cabinet was held two days after the early-morning explosion on a train transporting gas tanks, that left seven people dead, close to 30 injured and that devastated a large number of houses and other buildings in the north-eastern Bulgarian village.
Borissov said that five million leva would be transferred to the account of the Hitrino municipality on December 12 and the other five million would go to the Ministry of Labour and Social Policy
The Prime Minister said that the five million for the municipality would be made available to enable the mayor to proceed with clean-up actions, while by law, other necessary actions had to be carried out by the Labour and Social Policy Ministry – such as spending on medicine and food – which was why the ministry would get the other five million.
Earlier on December 12, Interior Minister Roumyana Buchvarova said that the number of dead as a result of the explosion was seven, not eight as had been reported the day before.
Buchvarova said that in spite of the continuing high risk in the area, teams were continuing to work.
Five of the gas tanks had been emptied thanks to the non-stop work of the specialist teams.
Buchvarova said that she hoped for understanding from residents of the village. On Saturday, a full evacuation of Hitrino was ordered because of the dangers of the operation to remove gas from the container tanks.
National fire chief Nikolai Nikolov said that teams of firefighters, rescue workers and other experts had worked through the night.
Additional equipment, such as pumps and compressors, was coming from Romania.
The regional governor of Shoumen said that so far, a total of 292 families had been given ad-hoc assistance of 325 leva.
The regional office of the Interior Ministry in the town of Shoumen is assisting residents of Hitrino whose official Bulgarian identity documents, passports and driving licences have been lost, damaged or destroyed. Officials were preparing lists of people affected and the documents would be replaced free-of-charge and as soon as possible.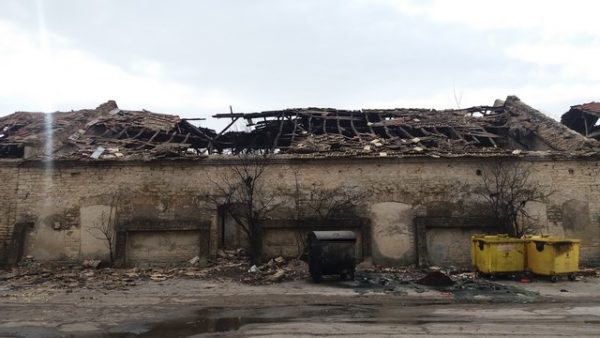 The company that operated the train, Bulmarket Rail Cargo, has pledged full co-operation with the investigators, and has involved the company's own experts and independent foreign experts, it said in a media statement.
(Photos: Bulgarian Interior Ministry)
/Panorama
Comments
comments