Greek port refugees face uncertainty as tourist season approaches
It has provided some respite amid the political storm that surrounds refugees, but as thousands face the prospect of being driven from their makeshift home in Athens' port to make way for tourists, confusion and uncertainty have once again taken hold.
With borders closed to them, Greece has effectively become a holding pen for an estimated 50,000 refugees, many of whom had hoped to travel beyond the economically-fragile country and to elsewhere in Europe.
Among the biggest of the makeshift camps that swelled in wake of the border closures, of which Macedonia was the most recent, is Pireaus port, which until recently housed more than 4,000 refugees.
But with the tourist season offering a boost to Greece's struggling economy, and the port a key gateway for holiday makers, efforts are now underway to shift them to new, state-built camps in time for Easter.
Although some have left willingly, many others fear what lies ahead.
Gearing up Their Efforts
Buses arrived this morning at Piraeus, the latest to offer a ride to official camps that have been set up elsewhere in Greece.
The plan has been touted for some time, with government figures pledging that Piraeus would be free of its tent city in time for this Friday.
With the port a key route to the country's Aegean Islands, the sense of urgency is driven by a Greek economy in tatters and desperately in need of the financial shot in the arm provided by tourists.
"They really want to gear up their efforts to clear this temporary transit station and return it to normalcy so that business as usual can resume," Katerina Downward, a volunteer helping refugees in Piraeus, explained.
Downward is a leading figure among the many volunteers who help make conditions livable in a site largely left alone by the state and many larger humanitarian organizations.
The situation is far from ideal in the port, and there have been numerous clashes between members of the Syrian and Afghan community, leading to the creation of separate food lines.
Least Worst Option
But with some showers, toilets, daily food, and entertainment provided for children, for some here it seems the least worst option.
Today's buses are understood to have been popular, they took a few hundred people to Skaramagas, where there is a camp considered an improvement on conditions in Piraeus.
But with many refugees willing to make the journey, the pick up was, according to freelance journalist Eric Mueller, "chaos".
"There was yelling and people were trying to get on the bus," he said. "There was pushing and shoving."
Though the destination today seemed to be certain, with the relationship between the authorities and volunteer groups virtually non-existent, that has not always been in case.
In recent weeks, few have known whether the buses arriving will take them to a better situation or a worse one.
Mother of three Ghalia Kalim, who comes from Aleppo, showed VOA a picture of a snake she says was caught at a camp she went to by bus from Piraeus.
"They said we would go to a good camp with hot water, but when we arrived it was a very bad situation so we came back here," Kalim, who hoped to meet up with her husband Yasser who is already in Germany, told VOA.
Asked what she would do if Piraeus closed, Kalim responded tearfully.
"I just want us to be in Germany with my husband, and safe."
Meanwhile, amid accusations that the recent EU-Turkey deal had transformed some refugee camps in Lesbos into detention centers, and more deportations of refugees back to Turkey expected, for some a state-run camp is not an alluring prospect.
As Downwards puts it, "Some people simply do not want to get on these buses because, they figure, the devil they know is better than the devil they don't."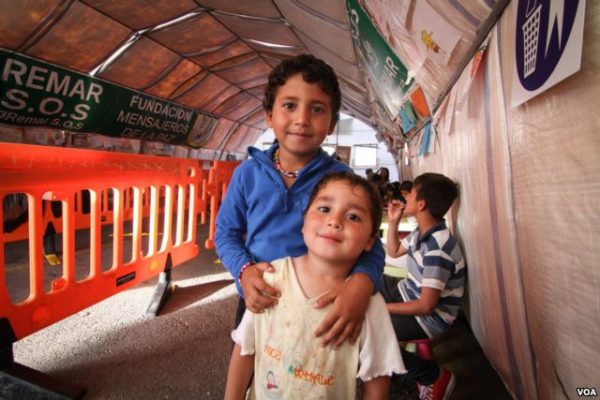 Humans, Not Animals
Nobody, possibly not even the Greek government, knows what will happen if the remaining refugees, likely about 3,000 after today's departures, have not left the port by Friday.
But whether or not they are shifted elsewhere, the broader problem of the limbo faced by refugees who wish to move beyond Greece remains.
Many are frantically applying for asylum through a hotline that is only open a few hours a week, hoping to secure an interview that will see them given a new home in Europe, rather than sent back the way they came.
Hassan Mansour travels alone, his family having being killed and his home destroyed in the Syrian city of Aleppo.
Like many others here, he returned to Piraeus having tried his luck at Idomini only to find the border to Macedonia closed.
But after 21 attempts calling the number, he got lucky, he has an interview next month.
He called shifting policies over the refugee situation "a game" by politicians. But his plea to European leaders is clear.
"Do something for the people here," he told VOA.
"We are human, we are not animals"
Source: VOANews.com
Comments
comments