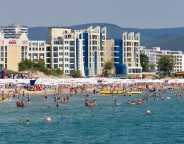 April 23, 2014, by The Sofia Globe staff
One swallow may not a summer make, but once again mid-April has seen a flight in of the early birds of Bulgaria's Sunny Beach tourism season, a ...
April 23, 2014, by Independent Balkan News Agency
A statement of historical importance was issued by the Turkish prime minister's communications office regarding the Armenian genocide. April 24 is t ...
April 23, 2014, by Clive Leviev-Sawyer
The official campaign period in Bulgaria's May 25 2014 European Parliament elections starts on April 25. Fifteen parties, six coalitions and six ...