Ataka mounts counter-attack over Varna Airport clash
Two members of Parliament for ultra-nationalists Ataka who were present at the January 6 incident at Varna Airport in which two people were assaulted have appeared on television to join the party's counter-attack against allegations against leader Volen Siderov.
As with Siderov's lengthy statement at a special news conference on January 12, Ataka members Denitsa Gadzheva and Miglena Alexandrova backed up the Siderov version, in which he and the party were on the receiving end of abuse as part of an alleged conspiracy to discredit him and the party.
The two MPs, however, did not explain why Siderov had spent days using offensive language against journalists.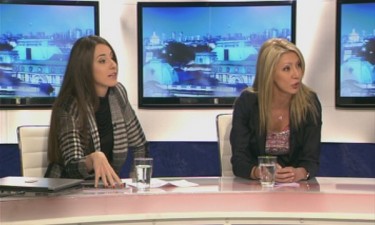 Siderov told the Sunday news conference that the incident had begun aboad a Sofia-Varna flight in which, he alleged, French diplomat Stephanie Dumortier used insulting language towards him and Bulgarians as a whole.
He went on to reject allegations that he had struck a policeman and that a bystander who had been complaining about the conduct of the Ataka group also was struck.
Siderov said that he intended taking court action against the police officer, who he alleged was lying. The Ataka leader also sought to claim that the policeman's injuries were fake and the policeman, along with the head of the hospital where the medical certificate about the injuries was issued, were supporters of opposition centre-right party GERB.
Against a background of a strongly-worded statement from the French embassy after the incident, Siderov said he did not see why he had to apologise to the French embassy. "It is the French embassy that should apologise to me."
He said that the Prosecutor-General's office, which has lodged an application for Parliament to remove Siderov's immunity from prosecution, had been "obviously misled".
Ataka said in a statement that the "smear campaign" against was being launched because of the European Parliament elections in May, alleging, variously, that this was because it fought against "American hegemony", for the extension of the moratorium on the sale of land to foreigners, a 20 per cent tax on photovoltaic and wind energy "vampires" and had campaigned for the expulsion of "foreign corporate colonialists" such as the three energy distribution companies, the "foreign banking cartel", "foreign communications cartel", foreign petrol stations and supermarkets, had fought to raise the incomes of Bulgarians, protect Bulgarian nuclear energy, stopped the privatisation of "the few profitable state enterprises" such as Kozloduy, Bulgarian Posts and the state railways and for the closure of the border with "neo-Ottoman Turkey".
Comments
comments