Bulgarian caretaker PM Raykov holds talks with Patriarch Neofit
Caretaker Prime Minister Marin Raykov and Bulgarian Orthodox Church Patriarch Neofit sent messages of encouragement and hope amid difficult times to Bulgarians, after the two held talks on March 14 2013.
The meeting was held a day after Raykov took office as head of government and foreign minister pending the forming of an elected government after May 12 ahead-of-term parliamentary elections. Neofit similarly is a newcomer to his office, having been elected Patriarch on February 24 2013.
"Some Bulgarians are going through a difficult time in the social regard and succumb to despair, but we must maintain hope and together endeavour to get out of this situation," Raykov said.
After the meeting, Raykov told Neofit, "today we have discussed a number of issues regarding the state of our country and I would like to thank you for the encouraging words".
Raykov told Neofit that he earlier had told President Rossen Plevneliev that on March 14, the first day of his administration, he intended to visit the Patriarch to ask for his blessing.
Neofit in turn thanked Raykov, because already in his first speech to Bulgarians as caretaker prime minister, he had expressed his willingness to initiate a number of important events to bring peace and security to the hearts of Bulgarians and especially those who were suffering greatly.
Neofit repeated an earlier appeal to people not to take their own lives and not to commit acts of self-immolation – an appeal made after, in separate incidents in recent weeks, four Bulgarians set themselves on fire. Three have died and the fourth man, who set himself on fire outside the Presidency on March 13, was in hospital in critical condition.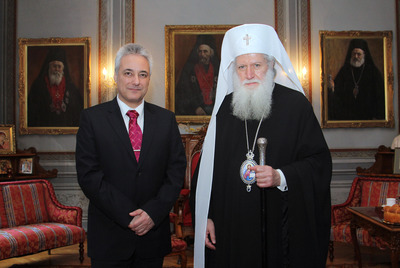 At the meeting between the caretaker prime minister and the Patriarch, held in the city of Rousse on the Danube where Neofit temporarily continues also to hold office as metropolitan, Neofit congratulated Bulgaria's Roman Catholics on the election on March 13 of Pope Francis.
.
Comments
comments