Bulgarian former interior ministry chief is now national co-ordinator of Volen Siderov's Ataka party
Svetlozar Lazarov, who was chief secretary of Bulgaria's Interior Ministry from June 2013 to March 2015, is now the national co-ordinator of Volen Siderov's far-right Ataka party, it emerged from reports in Ataka mouthpiece media on June 2 2017.
Lazarov was appointed to head the interior ministry by the "Oresharski" administration, which had dismissed his GERB-appointed predecessor, and remained in office until he was replaced in 2015 by the second Boiko Borissov government, which by then had been in office for four months.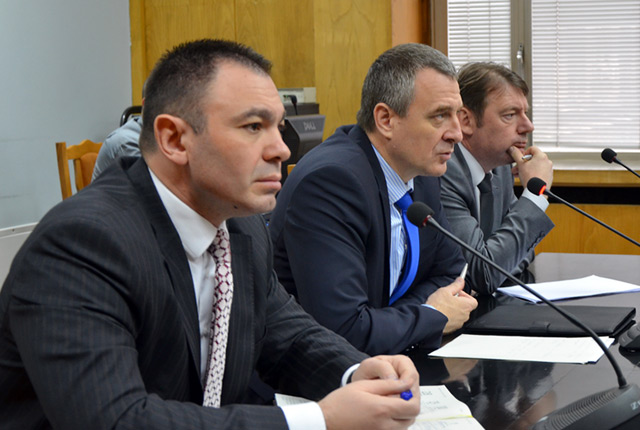 His new role in Ataka, which is part of the United Patriots coalition of nationalist and far-right parties, the minority partner in the third Borissov government, emerged when Ataka posted a photograph of Lazarov and Siderov at a conference in Moscow.
According to Ataka's eponymous daily newspaper, the event, held in the Russian capital city, brought together representatives of business, economy, political and civic organisations. The event was described in the publication as being entitled "what brings us together".
Bulgarian-language media reports said that the forum was under the auspices of Russian president Vladimir Putin's United Russia party.
The reports quoted Russia's Kommersant as saying that participants in the foum came up with a resolution "supporting president Putin's policy of consolidation in society".
The forum, organised by the Center for Interregional Programs and Projects, discussed four topics, including current civil society issues, Russia's socio-economic development principles, and the role of the nation's national security community.
Ataka daily said that on June 4, there would be coverage of Siderov's and Lazarov's participation in the forum, on Alfa Ataka TV.
/Politics
Comments
comments