Bulgarian prosecutors probe nationalists' pre-election protests at Turkish border
Acting on numerous complaints, the Bulgarian Prosecutor's Office has begun an investigation into the "blockade" of the Turkish border mounted by a nationalist political grouping ahead of the March elections, it was announced on March 30.
The investigation is into whether a crime was committed against the political rights of citizens.
In the days before the March 26 early parliamentary elections, groups from the nationalist United Patriots, including co-leaders Krassimir Karakachanov, Valeri Simeonov and Volen Siderov, went to three border checkpoints with Turkey to bar buses and other vehicles carrying people who were expected to vote for the Movement for Rights and Freedoms and for DOST, two parties with a strong electoral base among Bulgarians of Turkish ethnicity.
The Prosecutor's Office said that it had several reports from citizens that on March 24, near the Kapitan Andreevo border checkpoint, there were inappropriate actions against Bulgarian citizens wanting to exercise their electoral rights.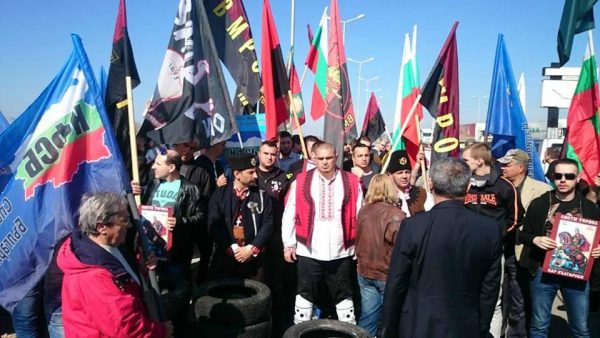 According to these reports, it is alleged that candidate MPs and other individuals made threats and behaved violently during the rally at the border, which was covered by the news media, the Prosecutor's Office statement said.
The Prosecutor's Office has referred the matter to the Sofia City Prosecutor's Office.
The Sofia City Prosecutor's Office will require the media to submit all recordings and broadcasts containing footage of the people who are the subject of the reports.
They and the police who were at the scene will be interviewed in the course of the investigation. Relevant documents will be gathered, the statement said.
On March 28, DOST leader Lyutvi Mestan said that his party wanted the election results overturned.
Mestan said that were it not for the "deliberately planned and aggressive campaign, or not just a campaign but rather anti-constitutional and unlawful actions", his party would have won enough seats to enter Parliament.
According to the Central Election Commission, with 100 per cent of the ballots counted, DOST won 2.86 per cent of the vote. In Bulgaria, the threshold for winning seats in Parliament is four per cent of the vote.
Mestan said that the United Patriots' actions at the Turkish border had been an outrage against people who had come to exercise their legitimate right to vote. The actions at the border had been a breach of Bulgaria's Penal Code, he said.
In the elections, the United Patriots placed third, and are seen as a likely coalition partner in a possible government headed by GERB leader Boiko Borissov, whose party got the most votes.
/Politics
Comments
comments