Bulgarian caretaker PM's autobiography: 'I was not a politician'
The title of the 456-page 2015 autobiography of Ognyan Gerdzhikov, who on January 27 2017 will take over as Bulgaria's caretaker Prime Minister, was "I was not a politician".
Gerdzhikov, professionally best-known as a law professor apart from his curtailed stint as Speaker of Bulgaria's National Assembly from July 2001 to February 2005, also is something of a poet, musician, singer and, in his younger days, an athlete.
Before his return to prominence through the decree by President Roumen Radev appointing him to head the caretaker government that will take Bulgaria to early parliamentary elections on March 26 2017, Gerdzhikov had a rare place in recent Bulgarian politics for having been voted out as Parliament's presiding officer.
On a day of drama a few months before the National Assembly's term was due to expire, Gerdzhikov was ousted from the Speaker's chair by the votes of 119 MPs, in the 240-seat Parliament, for what they claimed was "systematically abusing his authority and breaching his obligations in his duties".
In a bizarre moment, as Gerdzhikov stepped down from the chair after the vote and walked down the aisle, those who had spoken and voted against him joined the House in standing for an ovation and applause.
Gerdzhikov was returned to the next National Assembly, again on the ticket of Simeon Saxe-Coburg's National Movement for Stability and Progress (NMSP) party, serving as head of the parliamentary committee on human rights and religious affairs. In 2009, no NMSP candidate was elected to Parliament and it seemed that Gerdzhikov's role in public life was over.
On the evening of January 24, after the Presidency officially announced Gerdzhikov's appointment as caretaker Prime Minister, he told public broadcaster Bulgarian National Television that he would work for continuity.
"I do not think that this is easy. This is a huge responsibility, a huge burden. It was not lightly taken, this burden on my back, because I know how hard it is," Gerdzhikov said.
He said that he knew that things were hard not only for Bulgaria, but also for the world, which he described as being in a turbulent state.
"Much will depend on the support of the President, and of the people that he appoints to the caretaker cabinet," he said.
The principal task of the administration that Gerdzhikov will head will be to oversee the preparations for early elections, prompted by the resignation of Boiko Borissov's government in response to the defeat of Borissov's GERB's party candidate in Bulgaria's November 2016 presidential elections. Radev chose the 70-year-old professor to take the reins of government, with a cabinet expected to include figures from a range of political backgrounds.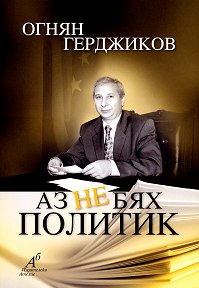 Tsvetan Tsvetanov, deputy leader of GERB and head of its parliamentary group, said that Gerdzhikov was a good choice of caretaker prime minister.
"Up to this point, no one has spoken ill of Professor Gerdzhikov, and I think this is a good choice," said Tsvetanov, who is expected to head GERB's election campaign headquarters.
Kornelia Ninova, leader of the second-largest party in the current National Assembly, the opposition Bulgarian Socialist Party which backed the ticket on which President Radev was elected, reserved judgment, saying on January 25 that she did not want to comment on Gerdzhikov until the full make-up of the caretaker cabinet was made public.
Mustafa Karadaya, leader of the opposition Movement for Rights and Freedoms, said: "Mr Gerdzhikov is someone we know. He is a public figure, a law professor and has experience in politics. So our personal evaluation of him has always been positive".
Radan Kanev, leader of the minority opposition Democrats for a Strong Bulgaria, and who is on the verge of announcing a new political project entitled New Republic, said that he did not know Gerdzhikov but said that they were "polar opposites on the topic of judicial reform".
"So to me it's not good news for reasons of principle. I have always had strong reservations about the ranks of the NMSP, I think that returning through the back door into politics is not the best sign," Kanev said.
Krassimir Karakachanov, co-leader of the nationalist Patriotic Front and a deputy speaker in the now-departing 43rd National Assembly, said that Gerdzhikov was not only a respected lawyer but a "balanced politician". No bias should be expected in the caretaker government preparing the elections, Karakachanov said.
Naiden Zelenogorski, of the centre-right Reformist Bloc coalition which participates in Borissov's outgoing government, described Gerdzhikov as an appropriate choice. "I do not think that there will be any political passions in one direction or another," Zelenogorski said.
(Screenshot via BNT)
/Politics
Comments
comments