Sofia's new metro underground railway has positive effect on nearby property prices, real estate agencies say
The new Sofia metro underground railway line, officially opened on August 31 2012, has kept property prices in adjoining residential areas from falling into the decline seen elsewhere in Bulgaria's capital city, according to two real estate agencies.
Address real estate agency said that prices in Sofia had declined in July and August 2012, to about 2.5 per cen less than in the second half of 2011. However, residential areas near the new metro line, which links the centre of the city to the Lozenets neighbourhood, had shown either effectively no reduction or in some cases, slight increases.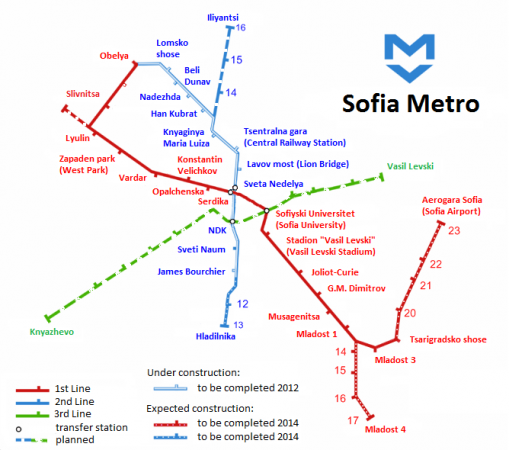 Arco Real Estate said that in an August 28 statement that for the first time in five years, average selling prices in all regions of Sofia were less than 1000 euro a sq m. The overall decline in the past year was six per cent and the largest decline was in western residential areas, at about nine per cent. The only increases were in neighbourhoods close to the newly-built metro railway line, the estate agency said.
The number of building permits for housing in August was down by 23 per cent compared to the same period in 2011.
Overall, in the office space market, oversupply and a lack of significant demand from tenants in Sofia was continuing to keep vacancy rates high and rents low in comparison to the previous year. Transactions involving prime office were at levels ranging from 10 to 12 euro a sq m while secondary locations attracted tenants paying three to five euro a month.
The opening of shopping malls Paradise Centerand Bulgaria Mall, scheduled to take place by the end of the year, would increase lettable space in malls in Sofia by about 50 per cent.
While average rent levels were 24 euro a sq a month for an average-sized room, the most sought-after locations in Sofia could reach rents of 45 euro a sq m a month, according to the agency.
It was expected that revamping of parts of the city centre, once complete, would enliven the market including the main shopping streets, the agency said.
(Photo: Metropoliten Sofia)
Comments
comments