Bulgarian Orthodox Church metropolitan objects to plan for Pope John XXIII monument in Nessebur
The Bulgarian Orthodox Church Metropolitan of Sliven, Yoanikii, has issued a statement objecting to reported plans for a monument to Roman Catholic Pope John XXIII in the seaside town of Nessebur, saying that John XXIII did not deserve this and the move would create tensions between Orthodox Christians and Roman Catholics.
John XXIII, Pope from October 1958 to June 1963, was Papal Nuncio to Bulgaria from 1925 to 1935.
The plan for a statue of him to be erected at the isthmus of the town was inspired, according to the municipality, by him having given the equivalent of half a million leva to feed Macedonian refugees.
John XXIII's career also includes having acted to assist Jews seeking to escape the Nazis' Holocaust, including Bulgarian Jews. Currently, he is on the path to canonisation, reportedly expected to happen before the end of 2013, along with the late Pope John Paul II.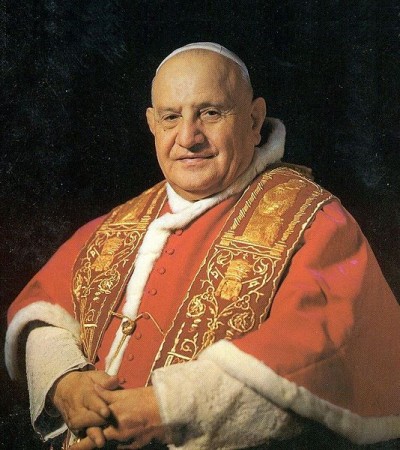 Nessebur mayor Nikolai Dimitrov was reported as having told daily Trud that the plan to put up a statue to John XXIII was supported by the town's people and would strengthen cultural and historical tourism.
But, in a lengthy statement on the website of the Bulgarian Orthodox Church in the town of Sliven, Yoanikii called on Nessebur municipality to reconsider its decision, which the statement described as an "insult" to the Orthodox Christians of Nessebur and to the patrons of the town, including Jesus, Mary, John the Baptist, St Stephen, the archangels Michael and Gabriel, and saints Sophia, Dimitar, Paraskeva, Theodore and Clement.
The statement said that in the "short time" (1925/35) that John XXIII, then Angelo Roncalli, had served, it was not possible that he had performed so many good deeds as for this to be described – as the municipality had – as "undoubted merit" qualifying him for a monument.
The statement said that Roncalli's biography did not record a 1926 donation to feeding children of refugees from Eastern Thrace and Aegean Macedonia.
Roncalli had helped with funding for victims of the 1928 earthquake in Bulgaria, had facilitated the marriage agreement between king Boris III and princess Giovanna, a Roman Catholic, and he helped to save Bulgarian Jews from the Holocaust. "But these are his contributions to the Bulgarian state, irrelevant to Nessebur."
Even if Roncalli donated money to feed the children of refugees, this single act did not warrant a monument.
"It is well known that the southern Black Sea resorts, already from the early Middle Ages, have been and are today Orthodox Christian communities. This is proven by dozens of medieval Orthodox churches and monasteries in the city and its surroundings. In these places there has never been more than a compact Catholic community, except for a small one in the region and another in Malko Tarnovo with the Eastern Rite."
The Sliven statement said that the fact that most tourists visiting Nessebur "profess the Catholic religion is not a reason for there to be a monument to a Catholic Pope".
"Nessebur is visited by quite a few representatives of other faiths and in striving for the development of so-called pilgrimage tourism, should monuments be erected to their spiritual leaders?"
Pilgrimage tourism in Nessebar will develop not because of a monument to the Pope, but because of the presence of medieval Orthodox churches and monasteries and other Christian monuments on the territory of the municipality, Yoanikii said.
"The erection of a monument to the Catholic Pope will rise to tensions between Orthodox and Catholic faiths in which for centuries there have been dogmatic and canonical differences."
Nessebur mayor Dimitrov said, "I deeply respect Metropolitan Yoanikii, but I think someone has misled him. I shall be meeting him next week. We have not stopped helping the Orthodox Church in Nessebur, and that with serious donations, so I do not see why anyone should be offended. This is about history and the flow of more tourists".
(Main photo: Роман Днепр)
Comments
comments