Bulgarian elections 2014: Of campaign ads and catatonia
Bulgaria's Central Election Commission (CEC), having banned two campaign videos, said on September 26 that it was to consider banning seven to eight more. It is a pity that, constrained by the criteria set out in law, they cannot introduce boredom as grounds for pulling the plug.
The two that have been banned so far, one by the ultra-nationalist Bulgarian National Union-New Democracy and the other by the Movement for Rights and Freedoms, were ordered off the air and offline for – in the view of the commission – illegally making use of children in political campaign material.
The CEC did not disclose details of the remaining videos up for review, apart from mentioning one that included footage of a military ceremony, apparently also a breach of the rules.
In Bulgarian elections, campaign videos are a serious business, at least in financial terms.
To the extent that campaign spending is verifiable, with not every party and media so far meeting the requirements in law to disclose contracts and money changing hands, adspend by political parties passed the two million leva mark a week ago.
With just more than a week to Bulgaria's October 5 early parliamentary elections, the real number is certain to be climbing well past that.
Further, this time around not only do parties represented in the previous parliament have the advantage of state subsidies that they can use to pay for campaigning, parties aspiring to membership of the 43rd National Assembly also get some financial help. That has widened the field for campaign advertising, for which video production companies may be grateful even if viewers may not.
So far, not all of the 25 parties and coalitions standing in the elections have put adverts on television or online. Some may be holding their fire until closer to the close of campaigning.
Some parties prefer "paid reportage" on television to actual adverts, while some of the social network-savvy spread their ads through Facebook rather than on TV – the latter also being cheaper.
And at least one falls into a slightly different category – neither an advert nor paid reportage. Online, a video quickly spread of Movement 21 leader Tatyana Doncheva taking over the violin from the faux Mozart in Plovdiv's main shopping street, with Doncheva, formerly a long-term orchestra member, acquitting herself admirably. Whatever one thinks of Doncheva's politics, at least there is one Bulgarian politician with a praiseworthy talent.
Boiko Borissov's centre-right GERB, said by pollsters to be set to win the most votes by far on October 5 but also only about fifth in campaign adspend, has videos out with high production values, if not especially inspiring.
Its main ad so far depicts an album of photos tracing back the history of protests in Bulgaria against Bulgarian Socialist Party governments, with a typewriter sound-effect hammering home the points. A voiceover solemnly narrates, culminating with the message, "there are days when everyone has the chance to take history into your hands – October 5 is one of them".
Online, Borissov's party offers a longer clip, based largely on footage from its campaign launch, moodily recording such auspicious moments as Borissov entering the hall and sitting down. Several minutes long, it outstays its welcome quickly (the film industry term for it would be For Fans Only).
The BSP tries to steal a march on GERB's highlighting of the Borissov administration's record in developing infrastructure with a video advertisement that heavily-handedly contrasts what the BSP apparently sees as the differences in the records in government of the two parties.
To the ominous tolling of a funereal bell, GERB is portrayed as the party of decay and ruin; then, for the second half, the bell gives way to – of all things – Vivaldi, as the BSP is claimed to be the party of all things bright and shiny and new. This election, the BSP actually has managed something clumsier than the ridiculous boxing-fencing-and-chess series that it broadcast in May for the European Parliament elections.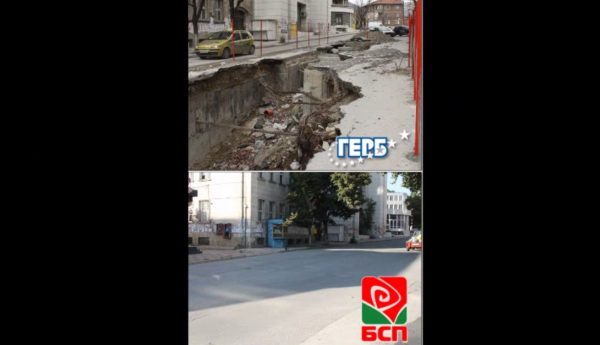 The MRF is, of course, one of the parties that fell foul of the CEC for the scenes in its video in which party leader Lyutvi Mestan is seen hugging and kissing a toddler, while the montage also contains images of children holding MRF balloons and wearing MRF caps.
Leaving aside the images that caused all the trouble, the MRF message is that "freedom is in you" (rather mystical, that) while the video spells out that for 25 years, the MRF has been caring for the freedom of all Bulgarian citizens – a notable outreach in this campaign for a party customarily seen as the party of Bulgarians of Turkish ethnicity, and a message certainly not unintended.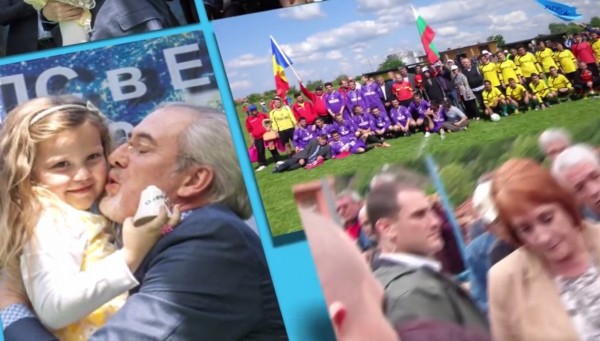 The centre-right Reformist Bloc offers a rather pedestrian video with phrases in blocks (geddit?) bouncing around the screen. Rather rapidly, too, and for someone who is dependent on reading glasses, slightly seasickness-inducing. Anyway, the message boils down how the country could be better and "is it not better when someone wants to fight on your side, to support them?"
Well, yes, I suppose so, thanks awfully for asking (yawns).
The far-right ultra-nationalist Patriotic Front largely opts for paid reports on television. The one on the night of September 25 had Valeri Simeonov banging on about how unpalatable it would be if electricity prices went up. That's an issue that every party that probably will not be in government after October wants to own.
So is patriotism, to refer to the other fight on the right. A nice headline from a debate report by Nova Televizia: "Patriotic Front and Bulgaria Without Censorship argue about who is more patriotic".
(I have skipped practically all television debates on all channels so far. Most rapidly descend into everyone talking at once to the point that anything anyone is saying is utterly unintelligible.)
Still on the far-right, I also have only sat through one paid television report on an Ataka meeting, during which Volen Siderov's main thesis is that, in government, his party would save Bulgaria from the looming war with Russia into which the country is being dragged, at least in the unique view of Siderov.
Weighing heavily on the nightly paid reports is Bulgaria Without Censorship's Nikolai Barekov, who appears to be covering every square inch of the country similarly to the way he did in May. The other night he was extolling the virtues of his policy on sport, saying that sport makes people patriotic.
One would hate to disillusion Barekov, who seems ever confident of the correctness of his views (even when, for instance, a few days apart calling for the restoration of the communist-era name "People's Republic of Bulgaria" while also calling for the restoration of the monarchy) but these ears have heard Bulgarians cheering foreign football teams when those teams are playing against rivals of their own.
But Barekov has bigger sprat to fry, going by his online advert (audio file only) with begins by promising the creation of a million jobs, goes on to promise to encourage Bulgaria's young to return home (from working abroad, he means), an overall "honorable future", patriotism, and finally, the political extinction of GERB and the MRF.
Oddly, some of those who probably will not make it into the 43rd National Assembly have some of the catchier messages.
The same Doncheva, to-camera and backed by a group who presumably are luminaries in her BSP breakaway party, natters on about her promises and how she has the courage to carry them out. The message – in these words – is that she's "the only man in Bulgarian politics".
Glas Naroden offers a well-shot riff on the Die Hard films, with its leader Svetoslav Vitkov as a Bruce Willis-ish figure, while Novoto Vreme shows us sheep – the implication being that they represent conventional voters – and invites those casting their ballot on October 5 to "go wild".

The Novoto Vreme ad includes an assurance, with rather self-conscious wit, that no sheep were harmed in the making of the film. At least, that provided the main photo for this story. Baa.
(Disclosure: It hopefully should be obvious, but no political party or coalition paid for inclusion in – or exclusion from – this article).
Comments
comments