Police bust Bulgarian-linked crime network smuggling stolen vehicles from Spain
The Spanish Guardia Civil, supported by the Bulgarian Police, Portuguese Police and Europol, have dismantled an international crime group dedicated to vehicle theft and the illicit trafficking of the vehicles from Spain to Europe, Europol said on November 15.
The operation resulted in the arrest of 19 individuals and the investigation of five other suspects, who are accused of belonging to a criminal organisation, vehicle theft, document fraud, and money laundering.
The ring was involved in the theft of at least 85 vehicles with which they could have earned more than 1.5 million euro in illegal profits, and had links in Portugal, Poland, Romania, France, Austria, Russia, Bulgaria and Belgium.
Fourteen houses were searched in different Spanish and Portuguese provinces that resulted in the seizure of firearms plus devices to detect and block electromagnetic signals and GPS, and anti-theft security mechanisms, as well as tools to open vehicle doors.
The investigation began in September 2016 when a Spanish citizen informed the Guardia Civil that he had received several speeding fines in places where he had not been with his vehicle.
Investigations concluded that two vehicles of the same brand, model and license plate were circulating in Spain.
Further investigations revealed that the user of the "cloned" vehicle was a Bulgarian who had numerous convictions for crimes related to illicit vehicle trafficking, vehicle theft, and forged documents. He also owned several vehicles in Bulgaria that were registered in Spain.
The suspect was part of a crime network composed of criminals of several nationalities such as Spanish, Greek, French, Romanian, Polish, Portuguese, Brazilian and Bulgarian. Once the vehicles were stolen, he was responsible for forging the chassis numbers, while other Bulgarian members of the network provided counterfeit license plates and forged documents.
Other Polish, Estonian, Greek and Bulgarian members of the organisation were in charge of receiving the already-cloned stolen vehicles, and selling them in other European countries, sometimes in pieces.
The vehicles were mainly stolen in Madrid. The ring used frequency jammers to block any GPS/GSM devices installed in the cars, as well as various security measures to avoid detection.
After a vehicle was stolen, the criminal group looked for information about legally registered vehicles of the same brand and model, in order to clone its identity.
This included information about the owner, license plate, technical characteristics and chassis number.
To obtain this information, the network had a collaborator working at a Provincial Council who had direct access to Spain's Directorate General of Traffic's databases.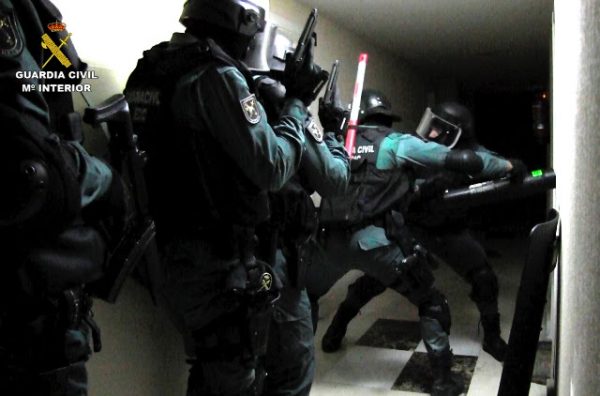 During an action day on October 10 2017, Europol supported operations on the ground by deploying a motor vehicle crime expert to Madrid equipped with a mobile office and a Universal Forensic Extraction Device (UFED). This allowed for real time cross-checks against Europol's databases of the information gathered during the actions, as well as extraction of data from the seized phones.
As a result of the cross-checks, links were identified with other investigations into vehicle theft and drug trafficking.
Comments
comments